Valley unions, schools trying to increase skilled laborers for oil, gas companies
---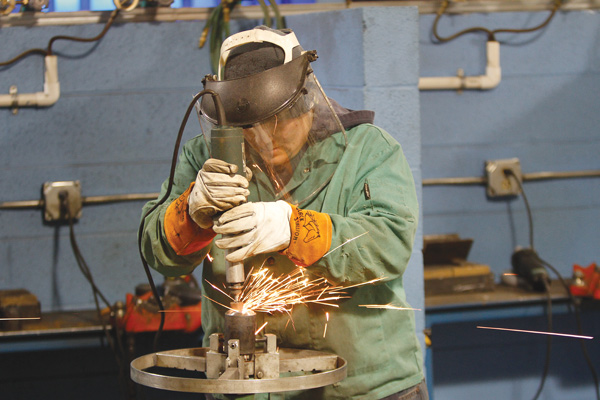 Photo
Ashley Basista of Struthers grinds a bevel into a 2-inch pipe. She is involved in an apprentice program to train Mahoning Valley residents for skilled-labor jobs in the oil and gas industry.
BOARDMAN
The developing Utica Shale play has brought plenty of commercial interest to the Mahoning Valley, as construction and manufacturing companies look to provide the infrastructure necessary to capture and transport natural gas.
But the rising demand for skilled workers in the Valley has shown that there aren't enough trained laborers available to meet the need.
The skills gap, as its called, is the result of an aging workforce and a shift in educational emphasis, and local unions, schools and training centers are trying to close it as quickly as possible.
One answer to the problem comes in the form of apprenticeships offered at local unions such as Plumbers and Pipefitters Local 396 on Bev Road.
Local 396 offers a five-year program that combines classroom instruction with on-the-job training. Apprentices attend classes two nights a week, while also working in the field with a pool of 52 contractors that employ their services.
Marty Loney, training director for Local 396, said he has seen a special need for trained welders to work on well pads, pipelines, tanks and compressors.
"The need for welders is just unbelievable," he said, estimating that there is a shortage of between 2,000 and 3,000 welders in the Mahoning Valley.
And as the demand has grown, so too have the number of apprentices the union takes on. Loney said Local 396 accepted 20 new apprentices last year, compared with about 10 to 12 just a couple years ago.
One of those apprentices was 23-year-old Josh Chaney, who started the program last summer.
After graduating welding school two years ago, Chaney said he wanted to expand his skill set through the apprenticeship program, and quickly gained experience working on oil and gas projects as he worked with area companies.
"At the contractors I worked with, that's all we did was oil and gas," he said.
Shale-related demand isn't specific to the pipefitting trade.
Carlton Ingram, a business representative from International Union of Operating Engineers Local 66, said there is a strong need for workers trained in handling heavy machinery.
His union's apprenticeship program has helped place workers with contractors looking for workers who can operate anything from excavators and bulldozers to front-end loaders and cranes.
While apprenticeships are key to getting young people invested in manufacturing and building trades, there remains a need in the short term, said Bert Cene, director of the Mahoning Columbiana Training Association.
"It doesn't help the immediate need," he said.
Cene said the problem lies in the history of the area itself.
When the steel industry collapsed in the 1970s, "we basically said manufacturing is dead, so we've been moving people away from manufacturing," he said.
School systems shifted focus away from the trades and emphasized obtaining a college degree. Less young people pursued skilled-labor careers, and the veterans started to retire.
He said local training centers are focusing on training people in advanced manufacturing.
But shifting the attention of educators to the evolving nature of manufacturing will hold the key to the area's ultimate success, Cene said.
"We want to make sure they're exposed to it so they can expose our young people to it," he said.
More like this from vindy.com