---
Wednesday, January 15, 2014
VTR - Kendrick Perry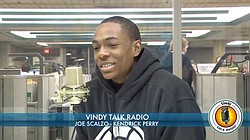 Video Set
Sports was on the agenda for Vindy Talk Radio at 5:30 p.m. Jan 15 with with our host Vindicator sports writer Joe Scalzo.
Kendrick Perry of the YSU men's basketball team is the Penguins' top scorer and a candidate for Horizon League Player of the Year this season.
Perry joined Scalzo to talk about his season and what he hopes to accomplish.
Go to vindy.com/radio to listen to the show live, or vindy.com/mobile/vindy-radio to listen from your smartphone. Watch the best of the discussion with our video clips!
Vindy Talk Radio Studio: 330-333-4454