Published: Wed, January 15, 2014 @ 12:00 a.m.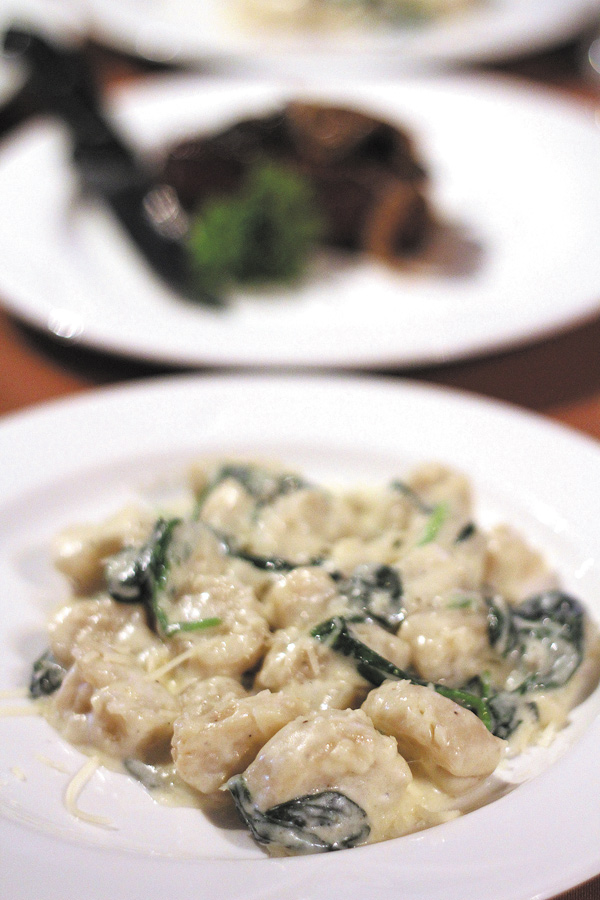 Photo
Signature dish, Ricotta Gnocchi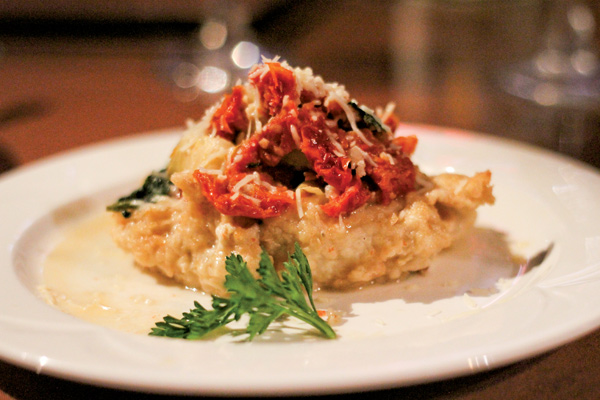 Photo
If You Go...
What: Selah
Address: 130 S. Bridge St., Struthers
Phone: 330-755-2759
Website: selahrestaurant.com
Hours: 11 a.m. to 9 p.m. Tuesday through Thursday, 11 a.m. to 9:30 p.m. Friday and Saturday and closed Sunday and Monday
By Mark Smesko & Michael Vallas
STRUTHERS
For a third time in 2013 we decided to head to a Struthers restaurant for our monthly feature. Our destination was a former bank-building-turned-restaurant at 130 S. Bridge St. The neighborhood was familiar to both of us. During the late 1980s, Mark would stop by the nearby Wagonwheel to toss a few beers back with his college buddies. Mike's connection goes back to the early '70s, when he would ride shotgun with his grandmother to pick up his grandfather at the end of his shift at Sheet & Tube. Today we pulled into the parking lot of Selah.
Despite the overcast skies of a mid-December day, it was easy to imagine how nice it would be to sit out on the outdoor patio during warmer weather. Once inside you'll find hardwood floors, brass accents from the former bank, and Edison lights that combine to give the d cor a genuine sense of warmth and comfort.
We met with the owner and chef, Brian Palumbo. Our first question was of the restaurant's name. According the restaurant's website, Selah means "to stop and ponder." Palumbo informed us that Selah has been at this location for about five years after operating in a smaller setting in Poland for three years. The dinner menu is a combination of family recipes with updated twists as well as special features that have struck a chord with patrons. Palumbo stated that the menu is always evolving and attempts to focus on fresh ingredients. With that said, it was time to eat.
We started our meal with a nice appetizer of smoked salmon paired with a classic dill sauce and flatbread. The salmon is smoked on the premises over apple and hickory wood to give it a subtle smoke flavor while maintaining a tender meat. When paired with the accompaniments, it made for a pleasant beginning.
We next sampled two different preparations of chicken. The Tuscan chicken consisted of a lightly breaded boneless, skinless breast sauteed with sun-dried tomatoes, basil and artichokes, served with a white wine reduction and topped with shavings of Asiago cheese. This was a light, delicious dish in which all the components worked well together.
The second chicken sampling was a twist on a classic French dish, Coq au Vin. Selah's version uses boneless chicken breasts braised in a combination of red wines with portobello mushrooms and roasted red peppers. The chicken was tender and worked well with the peppers, mushrooms and wine reduction. What made the dish for us was the slight sweetness and depth of flavor from the splash of marsala wine used in the reduction. A very satisfying dish for a cold December day.
Along with the entrees we were presented with house-made rolls paired with honey butter. The rolls were light and airy and had a nice herbaceous flavor from an infusion of fresh basil. The butter had almost a whipped cream consistency with a slight sweetness from the honey.
Next we were presented with what Palumbo considers Selah's signature dish, the made-to-order Ricotta Gnocchi. This dish originated from the restaurant's dinner theater productions called Bella Cucina, during which Selah combines a multiple course dinner with song. These events take place in the upper floor of the restaurant and combine Palumbo's passion for food and his joy of theater. Visit the website for dates and times of upcoming events. The gnocchi from these productions were so popular that they were placed on the menu permanently.
When we say this dish is made to order, we mean that the dish is made from scratch each time a patron places an order. He is not dropping frozen gnocchi into a pot of boiling water. When the plate comes to the table, it looks as if though it would be very heavy. However, the first bite dispels this notion as you taste light pillows of dough. The pasta is paired with a light cream sauce containing asiago and parmigiano cheese and sauteed spinach. Fresh and simply fantastic.
The gnocchi was paired with the Steak de Boucherie, a flat-iron steak cooked to medium rare and served with caramelized onions. Like the gnocchi, the steak was simply prepared but far from ordinary.
Our dinner tasting concluded with a slice each of Italian cream cake and raspberry cheesecake. These, like all desserts at Selah, are made from scratch. The Italian cream cake was not overly sweet and paired perfectly with an after-dinner cup of coffee.
To avoid the appearance that we're on the take from the local Chamber of Commerce, we're going to have to avoid heading back to Struthers for a while. However, we're glad we made our last visit of 2013 to Selah. It lives up to its name, a special place where you can pause in comfort and enjoy fine food in an atmosphere of simple sophistication.
About Signature Dishes
Mike and Mark are on the lookout for the biggest, hottest and tastiest dishes in the Valley. Email them at BrothersInFood@gmail.com.