A Vallourec Star subsidiary is considering an $81.5 million investment in Youngstown
---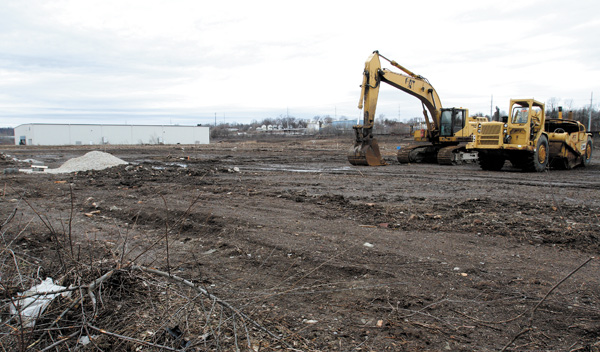 Photo
VAM USA LLC is considering building an $81.5 million finishing mill in Youngstown's Ohio Works Business Park at the former Genmak facility and an additional 67,500 square feet nearby.
YOUNGSTOWN
A Vallourec Star subsidiary is in the final stages of deciding if it will invest $81.5 million for the construction of a steel-pipe threading facility at the former Genmak Steel building and an additional 67,500 square feet nearby in the city's Ohio Works Business Park.
Vallourec's answer on using the Youngstown property for its VAM USA LLC subsidiary is expected in less than 90 days, said city Finance Director David Bozanich.
The facility would employ 84 full-time workers by early next year, according to VAM's 10-year, 75-percent real- property tax abatement application. It listed an estimated annual payroll of $2.9 million on one part of the application and $3.7 million on another.
"We've been working with the company for an extended period of time," Bozanich said. "We committed to a tax abatement as part of the deal in advance of their decision. We're extremely pleased to be in the running for this project."
Mayor John A. McNally said, "It would be fantastic news if this happens. We want to let them know we want them to make a decision to come here. It's a substantial investment and substantial job creation. The folks at Vallourec and VAM have been great to work with."
The proposed facility likely would have two threading lines, and would take about 16 months to complete from the start of construction, according to VAM's tax-abatement application.
VAM estimates the cost of the potential Youngstown facility at $81.5 million, but gave a project investment range of $73.9 million to $95 million on the abatement documentation.
City council will consider legislation Wednesday authorizing the board of control to offer the tax abatement to VAM.
The abatement would save $6 million over 10 years for VAM with the company paying $2 million in property taxes during that time frame. Also, VAM anticipates its employees will pay $79,750 annually in city income tax.
A local company spokesman said late Monday that he asked Vallourec officials for a comment but had not heard back from them.
VAM's website said the company "is a leader for 'super premium' connections for difficult applications such as very deep wells, including threaded and coupled tubing and carbon or stainless steal casing."
Vallourec manufactures steel tubes for the oil and gas industry.
Vallourec bought the 70,000-square-foot former Genmak Steel facility at 1053 Ohio Works Drive and two vacant adjacent parcels, which are about 67,500 square feet, in September for $2.5 million. Work is being done at the vacant land to clear it.
The Genmak structure was built in 2003 for the leveling and cutting of steel coil and storage, and has been empty for a few years.
The Ohio Works location is about a mile away from Vallourec Star's facilities in the Brier Hill Business Park, which includes the company's $1.1 billion expansion plant that opened in October 2012 through a cooperative revenue-sharing deal between Youngstown and Girard.
Vallourec announced in November 2011 that it would invest $57 million in a VAM USA LLC pipe-thread facility at the former Indalex plant site in Girard. That facility was never built, and it appears Vallourec has decided to consider the Youngstown site instead.
Girard Mayor James Melfi said he was surprised to learn from a reporter that VAM is looking at Youngstown.
More like this from vindy.com