Fitch's Figueroa ready for new challenge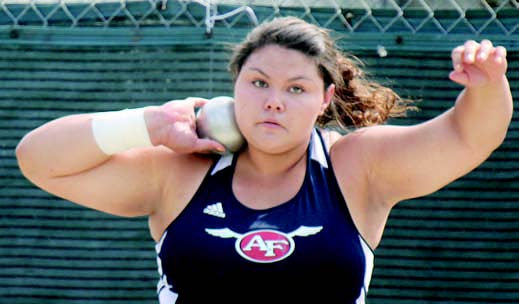 ---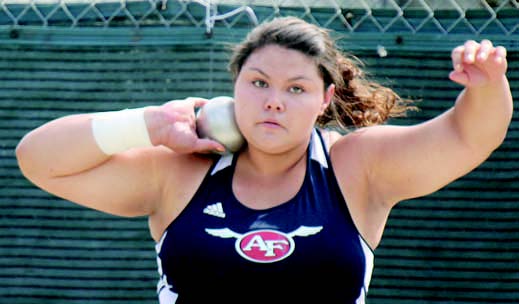 Photo
Fitch senior thrower Gabby Figueroa has verbally committed to LSU. A two-time indoor state champion in the weight throw, she holds Ohio's state indoor meet record in the weight throw and was also a state qualifier in both the shot put and discus at last year's outdoor state meet.
Fitch's Figueroa ready for new challenge in Louisiana
By Joe Scalzo
AUSTINTOWN
When Fitch senior Gabby Figueroa stepped off the plane for her official visit to LSU, it didn't just feel different than Ohio.
It smelled different.
"That probably sounds really odd," she said, laughing. "It wasn't bad, just different.
"I have this complex that everywhere I go, it looks like Ohio. But I can't fool myself into thinking Louisiana is like Ohio. It'll be different."
And for Figueroa, different can be good. The standout thrower verbally committed to the Tigers on Saturday, turning down several schools closer to home in order to compete for an SEC program that has won more women's NCAA track and field championships (11 indoor, 14 outdoor) than any other school in America.
"The cool thing was the LSU coach was very frank with her, saying, 'We're here to win national titles,'" said Fitch coach T.J. Koniowsky. "They don't care about winning the conference or nickel-and-diming points [at meets]. They want people to become very good at their craft.
"She [Figueroa] wanted to get out of her comfort zone and experience something she wasn't used to. She wanted to challenge herself to be her best."
Figueroa holds the Ohio record in the weight throw (58 feet, 11 inches) and has won back-to-back Division I state titles in the event.
She enters this year's indoor season as the top-ranked hammer thrower in the nation despite only practicing the event from December through March, as well as a few days in May.
"Her potential for growth is crazy," Koniowsky said. "Plus, she's tall [5-foot-10] and she's got a good frame. She's got the stuff genetically that the schools want.
"If she were 5-7, 130 pounds, we would not be having this conversation, even if she were the No. 1 high school thrower in the nation."
Figueroa chose LSU over offers from Michigan, Iowa, Texas-San Antonio, Kent State and Ashland. She was leaning toward Kent for much of the process, then appeared ready to choose Michigan.
"It's not that the other schools weren't absolutely fantastic schools," she said. "It was just about where I felt most comfortable. Me and the [throwing] coach [Derek Yush] really clicked and I think that was one of the most important things."
When asked if she was nervous about being so far from home, she said, "Originally, I didn't think it was that big of a deal. I went on a visit to a school in Texas and I wouldn't have gone around on so many official visits if I didn't think I could handle it. But the closer I got to verbally committing, the more I was freaking out about how far away it was. It's going to be hard to cope with that."
Figueroa made the commitment before her first indoor meet of the season, something she vowed to do as she grew weary of the process.
"Recruiting has been very stressful," she said. "I'm very blessed to have been recruited and have the talent I have. It's a great problem to have. But having verbally committed, it's a great feeling. Just relief.
"I didn't want to call three coaches after my first meet and say, 'Hey, this is how I did.' Now I feel like I can focus on the season."
While the hammer is Figueroa's best event, she's also strong in the discus and the shot put, advancing to the outdoor state meet in both events last spring.
She will likely throw the discus in college — "She's probably done with shot, since it's something she's not too fond of," Koniowsky said — if only to give herself a mental break.
"She's got a lot of potential in the discus; she could possibly be a placer in the SEC," Koniowsky said. "But LSU told her if she never throws another event besides the hammer, that's fine. But if she's frustrated with the hammer, it gives herself something else to do, basically."
Fitch's program has produced three major college recruits in the last five years — George Thomas (YSU) and Ali Tolich (Ashland) are the others — and a fourth, Billy Price, could have thrown in college had he not chose to play football at Ohio State.
"There's not another program in Ohio that I'd rather be a part of," Figueroa said. "I'm completely blessed to have landed in this situation for the last four years."