Khourys renew vows to honor 50th milestone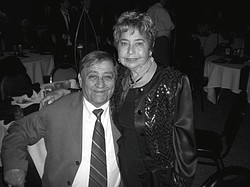 Photo
HUBBARD
Tony and Terry Khoury of Hubbard renewed their vows for their 50th wedding anniversary Dec. 22 at St. Maron Church in Youngstown. The Rev. Michael Kail, Deacon William George and Subdeacon Dr. James Essad presided and presented the couple with a Bible from the church.
Their children also hosted a celebration for family and friends at the Holiday Inn in Boardman on the same day.
Their children are Tony and Jarma Khoury of Greenville, N.C.; and Lee and Collette (Khoury) Fine and Mark and Lisa (Khoury) Leszynski, all of Strongsville. There are eight grandchildren, Bryn and Gabby Khoury of Greenville; Jeremy, Brady and Julia Fine and Leah and Aubrey Leszynski, all of Strongsville; and Ely Khoury, who is studying in Shanghai, China.
The former Terry Nemer married Mr. Khoury Dec. 21, 1963, at St. Maron Church.
Mr. Khoury is a graduate of College des Freres and studied at Paris-Sorbonne University, both in France. He also earned bachelor's and master's degrees in education and guidance and counseling at Youngstown State University. He taught French at Southington and Howland High schools for 32 years and retired in 1994.
Mrs. Khoury earned bachelor's and master's degrees in education from YSU and received a reading specialist certificate. She was a teacher for 36 years. She taught at Liberty Schools for 32 years.
The couple are members of Howland and Liberty Retired Teachers' associations and Trumbull County Retired Teachers' Association. They volunteer and are members the church. Mrs. Khoury has been a tax aide for AARP for 14 years and had been an usher at Powers and Stambaugh auditoriums.