---
"See Them Rise" High School Basketball Showcase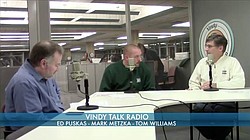 Video Set
We'll be talking sports on Vindy Talk Radio at 4:30 p.m. Jan 10 with with our hosts, Vindicator sports editor Ed Puskas and sports reporter Tom Williams.
Mark Metzka will stop into the show to discuss the Laricca Family's "See Them Rise" Basketball Showcase. The Covelli Centre will host, and the first game will be 3:15 p.m. Jan. 25 and continue through Jan. 26.
Scheduled match-ups for the event include:
Jan. 25
3:15 p.m.— Special Olympics Basketball -Mahoning County Indians vs. Mahoning Public Warriors
5:00 p.m.— Struthers (girls) vs. Hickory (girls)
6:45 p.m.— Girard vs. Warren John F. Kennedy
8:30 p.m.— Canfield vs. West Middlesex
Jan. 26
4:00 p.m.— Struthers vs. East
5:45 p.m.— Mineral Ridge vs. Crestview
7:30 p.m.— Bristol vs. Neshannock
Find out more about the tournament by going to vindy.com/radio to listen to the show live, or vindy.com/mobile/vindy-radio to listen from your smartphone. Click here to listen to the show.
Vindy Talk Radio Studio: 330-333-4454