Man dressed as puppy in Boardman comfortable in cold
By KALEA HALL
BOARDMAN
William Kofalt dances on the corner of U.S. Route 224 and Market Street in his Dalmatian puppy costume.
Puppies For Sale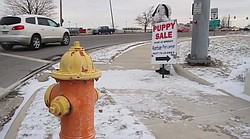 Video
William Kofalt wears an unusual outfit when he goes to work.
It was barely 20 degrees outside Wednesday afternoon, yet he was focused and loving his job as a live advertiser for Harbor Pet Center on Market Street.
"I just enjoy doing it," Kofalt said.
Kofalt, 28, wants everyone to know that he is fine out in the bitter cold — or even in scorching hot weather. He dresses appropriately for the weather and, more importantly, it's his choice to go out and work so the puppies inside the store can possibly have a home.
"This is really, truly what he loves to do," said Gary Winslow, owner of Harbor Pet. "They don't have to go out, but William takes his work seriously."
Kofalt has dressed up as the puppy on the corner for the past four years. Before that, he worked for Universal Studios in Florida. The Canfield resident also works for a pizza shop and has his own collection of costumes including a frog, wolf and parrot.
Winslow calls the advertising "very effective."
People will come into the store and say, "You know, if not for that guy out there, I wouldn't have been in here today," Winslow said.
Harbor Pet opened about 10 years ago. and business is still going well. Winslow says the store receives at least five more puppy sales thanks to Kofalt. Altogether, the locally owned pet store has about 25 puppy sales a week.
"We tend to follow with the general economy," Winslow said.
The store offers both pure-bred and hybrid puppies.
"The No. 1 puppy is a puggle," Winslow said.
Kofalt said it feels "awesome" to know he increases the store's business.
"It makes me feel like I am doing my job to bring people in the store," Kofalt said.
With multiple layers of clothing, Kofalt will happily continue to wave people into Harbor Pet every Monday, Wednesday, Thursday, Friday and Saturday that he works.
"He would have gone out [Tuesday] if had we have let him," Winslow said.