Valley beginning to thaw today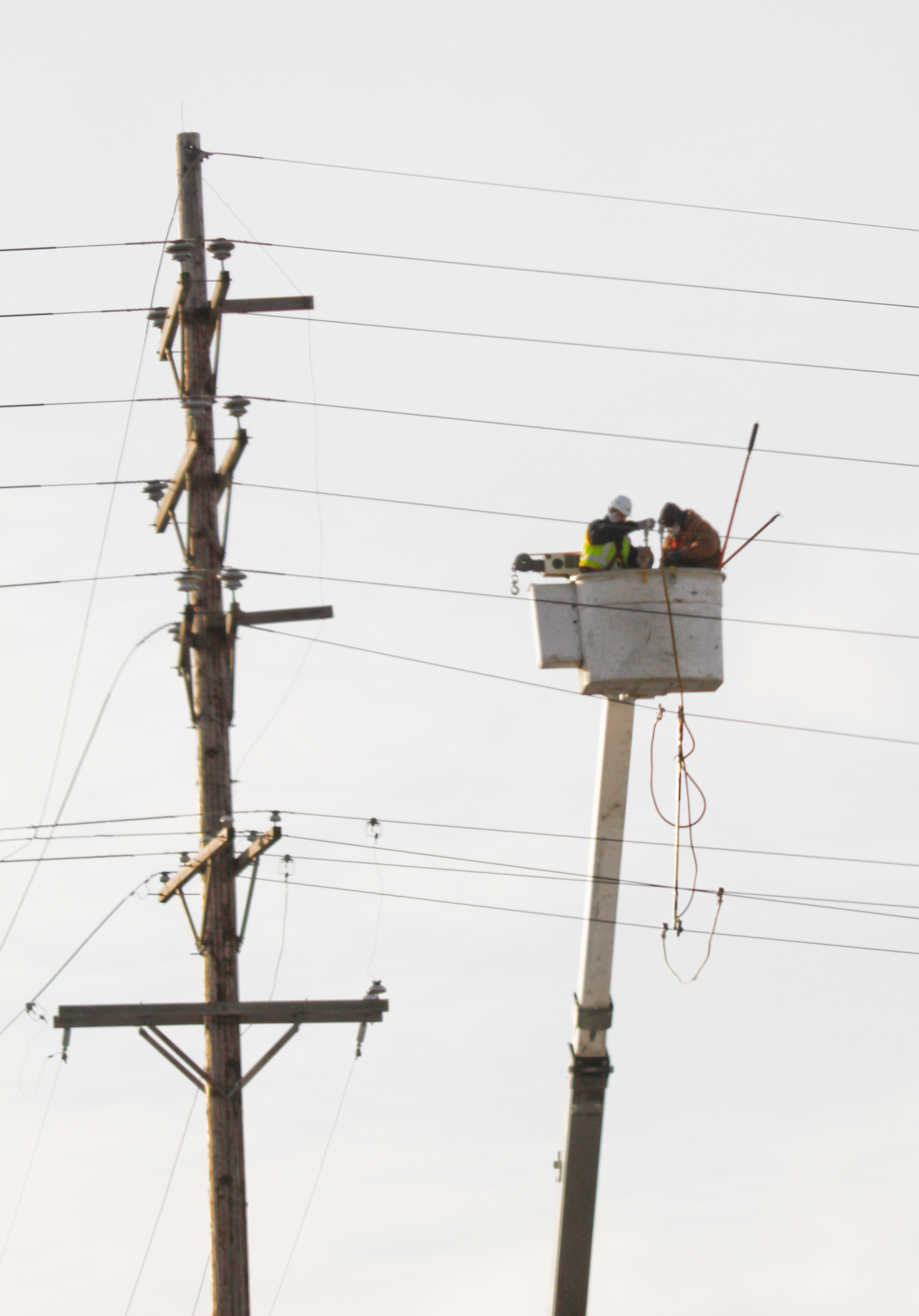 ---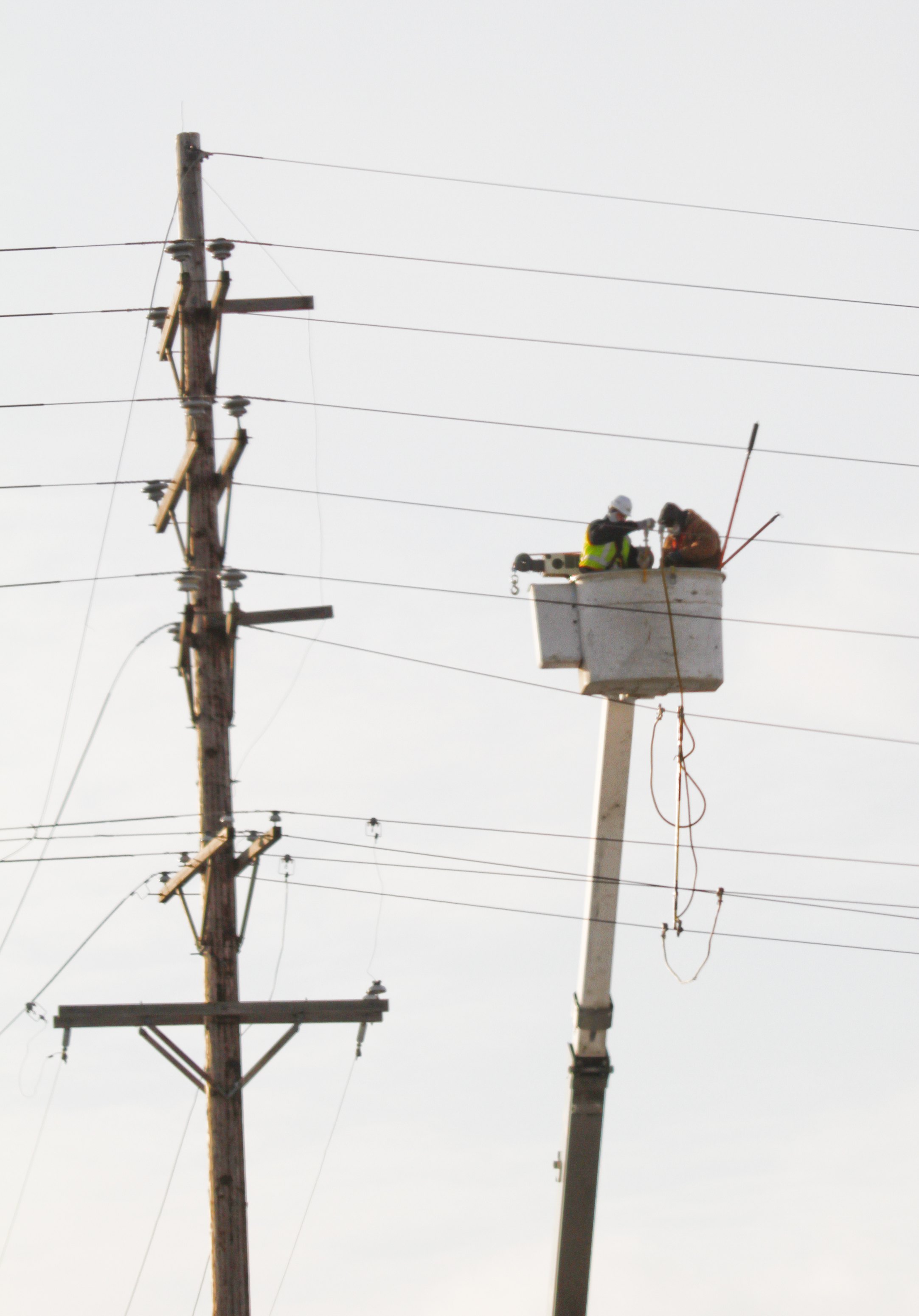 Photo
Ohio Edison battled low temps hovering around zero. strong winds and birds as they replaced a transmission line near 711 and MLK Boulevard near Brier Hill. late Tuesday afternoon.
Staff report
YOUNGSTOWN
After two days of record cold, those in the Mahoning Valley will get a reprieve, sort of, today — with the temperature getting into the low 20s.
But that won't happen until around 4 p.m.
The morning still will be cold, 4 to 11 degrees with wind chills between minus 10 and 5 degrees above zero for the morning and early afternoon, according to the National Weather Service in Cleveland.
"It's still not great, but the worst is over," said Eric Wilhelm, chief meteorologist for 21 WFMJ-TV, The Vindicator's broadcast partner. "It's a slow improvement for the next couple of days."
The high will be in the upper 20s Thursday and in the upper 30s Friday, said Kirk Lombardi, an NWS meteorologist.
It should reach the upper 40s Saturday, "believe it or not," Lombardi said.
Monday and Tuesday shattered previous record-low temperatures for those days in the Valley.
The low Monday, which happened close to midnight, was minus 11 degrees — the old record for Jan. 6 was minus 2 in 1988 — and the low Tuesday was minus 12 between 6 and 7 a.m. — the old record for Jan. 7 was minus 6, also in 1988.
Wind chills for both days bottomed out at minus 35 degrees, Wilhelm said.
This is the coldest stretch in the Mahoning Valley since 1994, when the low temperature was minus 18 on Jan. 18 and minus 22 on Jan. 19, according to NWS statistics. That minus-22 day is the coldest on record for the area.
The record-low temperatures Monday and Tuesday caused some water-main breaks including on Mahoning Avenue near Kimberly Avenue in Austintown, Market Street at Indianola Road in Boardman, Upland Avenue in Youngstown, Mathews and Youngstown-Poland roads in Poland, and on Edna Street in Poland.
"Surprisingly, there hasn't been as many as we expected," said Joseph Dunlap, superintendent of construction for the Youngstown Water Department.
But the department received "hundreds of calls" from customers with frozen water meters and pipes, he said.
The water department isn't responsible for those, so employees were telling callers to get heat on the frozen items — using a hair dryer is a good option — until they thaw, Dunlap said.
Higher temperatures at the end of the week likely will cause more water-main breaks because of the "freeze-thaw cycle," he said.
There were power outages Monday in portions of Youngstown, Austintown, Boardman, Liberty, McDonald, Girard and Weathersfield.
About 200 customers in the Parkhurst area of Girard and Wirt Street area of Youngstown were without power for part of Tuesday, said Robin Patton, area manager for Ohio Edison.
There were about 5,500 customers, Patton said, without power — about 1,500 in Girard, 450 in Liberty, 1,400 in McDonald and 2,100 in Weathersfield.
The power went back off at 6 a.m. Tuesday, which cut power to two mobile-home parks on Trumbull Avenue — including Paul's Mobile Home Park in Girard. Power was expected to come back on Tuesday night, Patton said.
David Turner, area manager for Mahoning and Columbiana counties, said downed power lines were responsible for 1,400 customers in the Leetonia-Lisbon area losing power about 7:20 p.m. Tuesday. He expected it to be restored by 11:30 p.m.
Linda Beil, Trumbull County Emergency Management director, said damage from frozen pipes in the mobile-home parks is likely.
The Salvation Army of Mahoning County, 1501 Glenwood Ave., Youngstown, opened its doors as a warming center to anyone seeking relief. The warming center is open from 9 a.m. to 6 p.m. today and will remain open as long as the deep freeze lingers, said Maj. Elijah Kahn, Mahoning County coordinator.
Also, hot meals are served between 11:30 a.m. and 1 p.m., and hot coffee and chocolate are provided throughout the day. For information, call The Salvation Army Mahoning County Area Services at 330-270-5999.
The Girard Multi-Generational Center, 443 Trumbull Ave., was going to close for the day Tuesday because of the low temperatures, but it opened at 9 a.m. to help those affected by the Tuesday morning power outage.
Mahoning Youngstown Community Action Partnership offices that were closed Tuesday were scheduled to reopen at 8 a.m. today, depending on the weather. Included are the administrative office, 1325 Fifth Ave., Youngstown; the Head Start Administrative office, 1350 Fifth Ave., Youngstown; and all nine Head Start classroom sites in Mahoning County.
The Columbiana County Emergency Management Agency building at 215 S. Market St., Lisbon, is open for shelter as long as needed.
People who have an emergency are urged to call 911. Those who required assistance, special needs or transportation may call the EMA at 330-424-9725.
The GM Lordstown Complex canceled third-shift production that started late Tuesday and runs through this morning because of weather. All skilled-trades employees, however, reported at their regularly scheduled times. Additional employees needed to support the business will be notified by their leadership. All subsequent shifts beginning with today's first shift were to report at regular times.