Published: Wed, January 8, 2014 @ 4:23 p.m.
Video Set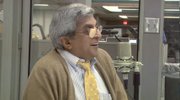 Mark Sweetwood, Todd Franko, and Bertram de Souza discuss bad news and YSU sports.
Vindy editors Todd Franko, Mark Sweetwood and Bertram DeSouza are all back from vacation — and boy are they opinionated. Listen in on what they've been mulling over their holiday break.