Game on: Children play life-size Candy Land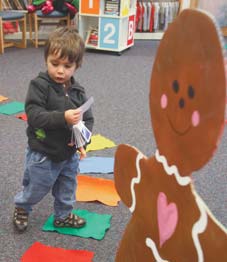 ---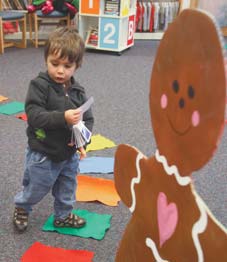 Photo
Ashton Williams, 2, of Poland ponders his next move while playing Candy Land recently at the library in Liberty.
By Sean Barron
LIBERTY
Anyone who has played the popular board game Candy Land likely recalls the 134 colorful squares that make up the winding track, the gingerbread-shaped pieces and names such as Princess Frostine, Lord Licorice and Gum Drop Mountain.
But for 6-year-old R.J. Chucksa of Howland, the game meant a new twist: actually being one of the pieces.
"It was kind of different," said R.J., a Howland Springs Primary School first-grader, referring to his participation in Friday's Life-Sized Candy Land event at the Liberty Public Library, 415 Church Hill-Hubbard Road. "It's my favorite game."
Just as in the board game, R.J., his 2-year-old sister, Maria, and 5-year-old brother, David, took colored cards and advanced to the nearest corresponding squares.
On occasion, the siblings drew picture cards and moved forward or backward to the proper space.
Participants advanced along colored squares made of felt that meandered around several bookshelves and simulated the racecourse in the game.
The winner was the first to reach the Candy Castle at the end.
Accompanying the youngsters was their mother, Theresa Chucksa, who appreciated the game's ability to teach and reinforce certain life lessons.
"Kids need to learn sharing and taking turns," she observed. "Kids need to be good winners and losers; they don't always have to win."
Another of her three youngsters' favorite games is Monopoly, which teaches valuable skills such as learning to count money and making change.
Nevertheless, R.J. has his own reason for enjoying that game.
"I like to see Mom go to jail," he said with a mischievous laugh.
Also making her way around the large Candy Land track was 4-year-old Paige Wood of Cortland, who drew plenty of laughs and praise from her mother, Julie Wood.
"It's fun," Paige said about being one of the game pieces.
Julie, a high-school librarian's assistant, said her daughter also enjoys playing the game at home with her grandmother, cousins and other relatives.
Julie added that Paige has visited the Trumbull County library system since the girl was six months old.
"We brought the traditional Candy Land game and made it bigger than life," said Jill DeAndrea, a children's librarian who supervised the gathering.
DeAndrea, a sister of Julie Wood, said the fun, family-oriented activity also was to further encourage the children and their families to appreciate the library's offerings.
The large Candy Land event also has been set up at the library system's Howland and Warren branches, but Friday was the first time at the Liberty Township branch, she added.