Renowned chef features Campbell church in PBS special
By EMMALEE C. TORISK
etorisk@vindy.com
CAMPBELL
The Rev. Steve Denas didn't think too much of the generic email that appeared in his inbox one day almost a year and a half ago.
Atsas Triplets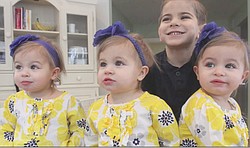 Video
The Atsas family of Boardman has triplets. A national television program recently visited them.
In the email — vaguely addressed "to whom it may concern," noted the priest of Campbell's Archangel Michael Greek Orthodox Church — the sender explained that she was working on a prime-time PBS documentary series that celebrated the different cultures and traditions that make up America.
The next episode, the sender wrote, would spotlight life's milestones, its rites of passage, those celebrations that signify the leaving of one stage and the entering of a new one. In particular, she was looking for a Greek Orthodox baptism, rife with tradition and ritual, to feature in the episode.
Then, the sender inquired, did the church have any scheduled in the next few months?
On a whim, Father Denas replied the next day, supplying a list that included the baptism of three identical female triplets: Isabella, Olivia and Julia Atsas, the daughters of Kate and Saki Atsas of Boardman.
Weeks later, much to his surprise, renowned chef Lidia Bastianich was in the church's community center for its twice-yearly Greek festival, eating gyros and stuffed grape leaves, flaky spinach pies and spit-roasted whole lamb.
Her festival visit — along with the triplets' Aug. 18, 2012, baptism and subsequent dinner at home with the Atsas family — made it into the hourlong "Lidia Celebrates America: Life's Milestones," set to air in Youngstown on Jan. 24 at 10 p.m.
"Food kind of opens doors, at least to me," Bastianich said during a recent telephone interview. "When people invite me to their table, it's an opportunity to see their culture, their traditions, their milestones — and I wanted to share it with the rest of America."
The special also includes three other "festive landmarks of life," as Bastianich terms them in the introduction: the sweet-16 birthday party of a French-Cajun woman who aspires to become a country music star in Nashville, Tenn.; the college graduation of a Brazilian-American student in Boston; and the traditional Navajo house-blessing ceremony in Utah.
All four segments demonstrate how food works as the "common denominator" that brings people together, regardless of their culture or ethnicity, Bastianich said. And within a culture, too, like the Greek community in Campbell, food is a way to strengthen those bonds, providing a sense of belonging and security.
Bastianich added that she found it "wonderful" to see the passing on of these traditions, especially the preparing and sharing of food, to the next generation — and of the elders embracing the youngsters and, in essence, telling them, "'This is what your heritage is all about.'"
And though she was well aware that the Greek culture is "very, very rich" with a number of pronounced rituals and traditional foods, she was a bit surprised by the enclave of Greek culture that exists in Campbell.
"It was like a town in Greece," Bastianich said, "but here we were in the middle of Ohio."
Kate and Saki Atsas admitted that they were shocked when they learned of Bastianich's interest in including their triplets' baptism in an episode of her series, but guessed that it might've had something to do with the great deal of significance and meaning inherent in the Greek Orthodox ceremony.
Plus, it isn't every day that a triple baptism occurs. In fact, Father Denas had never done one.
But the baptism proceeded normally — or as normal as it could be with a film crew recording each stage of the ceremony, from the exorcism, to the actual baptism, to the communion. The entire ceremony lasted about 21⁄2 hours, with the Atsas family's overall segment edited down to about 12 minutes in the finished episode.
The couple agreed that having Bastianich and her crew visit Campbell, where Saki Atsas grew up, was simply a pleasure, and that they have "nothing but nice things to say about them," Kate Atsas said. It was a good experience both for them and for the community, and one they'd gladly repeat, if the opportunity ever arose.
Others appearing in the episode include the triplets' big brother Nicholas Atsas; grandparents Linda and Tom Arens and Popi and Nick Atsas; godparents Stavros, Saki and Maria Atsas; and an aunt, Irene Atsas.
"It's a nice memory for us to have," Kate Atsas said. "And it portrayed how strong the Greek community in Campbell is, and just how [much] they value family and gatherings, like the festivals, and their religion. It's a very strong, close-knit community."
Father Denas added that he, too, was delighted that the series' crew selected the goings-on of a church in Campbell for inclusion in the episode. And though Father Denas has been in Campbell only for the past 10 years, he's quite cognizant of the "microcosm of all the different cultures" and appreciates how they all "fell together very nicely in this town." He's hopeful that the episode — which also is available for viewing online — will make the city's residents proud, and also introduce others to the myriad rich cultures that are preserved in the city.
"It's almost kind of a secret. It's not that well known," Father Denas said. "We have this beautiful fabric of diverse traditions here, and I think it makes it a great place to live. I'm hoping that PBS might come back someday again and look at other things."