CHS competes in Holiday Duals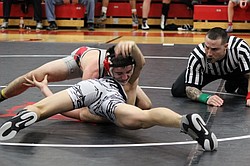 Photo
Neighbors | Submitted .Korey Frost is shown bundling up his opponent at the Canfield Holiday Duals Dec. 21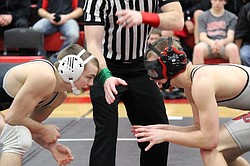 Photo
Neighbors | Submitted .Stephen Daprile prepares to face St Paris Graham at the Canfield Holiday Duals Dec. 21
The Canfield High School wrestling team played host to some of the top teams in the nation at the Canfield Holiday Duals. Three days after defeating Poland in a 54-24 victory, the Cardinals welcomed perennial OHSAA wrestling power St. Paris Graham and three-time Michigan state champion Richmond High School, along with Revere, Rootstown and Southeast. The six teams faced off in a team "round robin" format on three mats.
Canfield opened the day with a 52-15 defeat of Ravenna Southeast and then beat Rootstown 42-24 in the next match. The Card's third match of the day was versus a Richmond team that won state titles in Michigan in 2010, 2011 and 2012 and were state runners-up in the previous year. The Cards had a 30-25 lead heading into the final match, but Richmond was able to get a fall for a 31-30 victory.
In their fourth match, the Cardinals faced a St. Paris Graham team that has won the last 13 division two state championships. Graham, currently ranked third nationally, lost only one match en route to a 67-4 victory. Jacob Esarco brought home a victory in the 220 pound weight class. In the final match, the home team put on a display of grappling on their way to 67-12 win over Richfield Revere. The win improved the Cardinal's record to 9 and 2 for the season. Individuals standouts for the Cardinals were Esarco at 5-0 on the day, while Korey Frost, Georgio Poullas, Stephen Daprile, Bryan Batton and Stan Socha all finished 4 and 1.