Cardinal Moooney freshman leads team to victory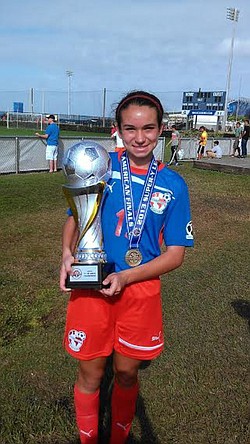 Photo
The Cleveland Internationals U14 girls soccer team won the United Soccer League's Super Youth National Championship at IMG Academics in Bradenton, Fla. Pictured is Elizabeth Philibin with the team's trophy.
Elizabeth Philibin, a Cardinal Mooney High School freshman, spent Dec. 4-9 competing in the United Soccer League's Super Youth North American Finals competition at IMG Academies in Bradenton, Fla.
Philibin and the U-14 Cleveland Internationals team qualified for the finals through league play during the summer of 2013. The Internationals posted a 2-1 record during the first three days of the competition, qualifying them for the semifinals.
The team advanced to the finals with a 2-0 semifinal victory over West Pines Soccer Club. The Internationals claimed the championship after a double overtime 1-1 tie forced the game into penalty kicks. A seven-player penalty kick ultimately determined the Internationals victory.
Philibin and her team also won the 2013 Ohio North State Cup Competition and will continue playing throughout the year in the Elite Clubs National League. Philibin has been playing with the Internationals Soccer Club since she was a U-10 player.
More like this from vindy.com