Blacks are still not free, a speaker said.
---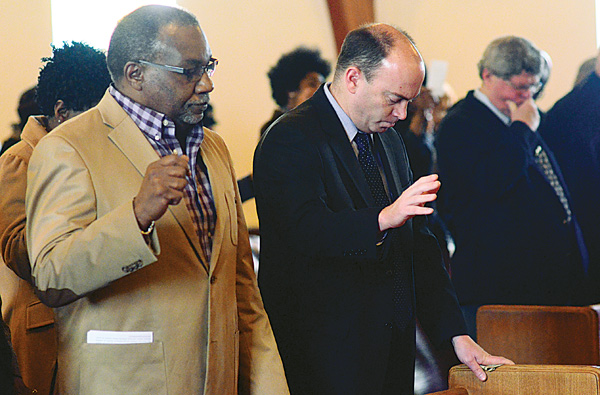 Photo
Youngstown Councilman L. Nathaniel Pinkard, D-3rd, left, and Mayor John A. McNally participate in the annual Emancipation Proclamation and Installation Service at Price Memorial AME Zion Church in Youngstown. The Wednesday service dealt with the state of the black community 151 years after President Abraham Lincoln signed the historic document freeing slaves.
By Sean Barron
YOUNGSTOWN
The nation's first black president points to progress many blacks have made in 151 years, but it's only part of a dichotomy that also sees a disproportionately high number of black men incarcerated and unemployed, a longtime pastor contends.
"It appears to me to be crystal clear that we're still not free," the Rev. Roderick C. Pounds Sr. said during Wednesday's annual Emancipation Proclamation and Installation Service at Price Memorial AME Zion Church, 920 Dryden Ave. on the East Side.
Sponsoring the gathering were the Interdenominational Ministerial Alliance of Youngstown & Vicinity and the Baptist Pastors' Council of Youngstown & Vicinity.
The two-hour program and worship service celebrated the 151st anniversary of President Abraham Lincoln's signing of the Emancipation Proclamation on Jan. 1, 1863.
The executive order called for slaves to be free in so-called rebellious states, though it applied neither to border-slave states such as Kentucky and Missouri nor to parts of three Confederate states under Union control.
The Rev. Mr. Pounds, pastor of Second Baptist Church in Akron, cited Michelle Alexander's book, "The New Jim Crow: Mass Incarceration in the Age of Colorblindness" while noting that nearly 1 million black men remain behind bars, many unjustifiably.
"More black men are incarcerated today than there were slaves in 1868," he told an audience of about 200.
Nevertheless, Mr. Pounds referred to Jeremiah 29:11, which points to God's promise to bring certain oppressed people a future of hope and success instead of suffering.
It's also important that Bible interpretations are coupled with social justice, which, he said, is "at the heart of what Jesus talked about regarding reaching out to the poor and incarcerated."
"The Emancipation Proclamation was not a law passed by Congress, but a wartime decision made by the president," noted the Rev. Dwight Dumas, founding president of the Commission to Pursue Reconciliation.
The Rev. Mr. Dumas called on the guests and parishioners to remember their ancestors' struggles and celebrate the accomplishments of leaders such as South African President Nelson Mandela and Dr. Martin Luther King Jr.
In addition, he said, people should try to recognize how they can help such struggles, including having a positive impact on their communities and further reaching out to young people.
Kicking off the program was the Rev. Dr. William King, Price Memorial's pastor.
The Rev. Mr. King read a portion of Martin Luther King's famous "I Have a Dream" speech that pertains to freedom, which the late civil-rights leader gave during the Aug. 28, 1963, March on Washington.
Providing the musical selections was the Emancipation Community Choir. To honor Mandela, the group inserted his name in its interpretation of the popular 1968 Dion song, "Abraham, Martin and John."
Additional remarks came from the Rev. Kevin Crum, pastor of New Hope Baptist Church and BPC president; Elder Rosetta Carter, associate minster of Greater Friendship Baptist Church; Rev. Gena Thornton, pastor of Grace AME Church in Warren; Rev. Robin Woodberry, assistant pastor of New Bethel Baptist Church; and Rev. Lewis W. Macklin II, IMA president and pastor of Holy Trinity Missionary Baptist Church, who also gave the benediction.
Reading of Scripture was from the Rev. Robbin Del Nagro, Mahoning Valley Association of Churches' executive director.
Performing a liturgical expression was Shanika Jordan with Progressive Kingdom Ministries.
More like this from vindy.com