Is it insanity? 25 to 30 people took the plunge in Lake Milton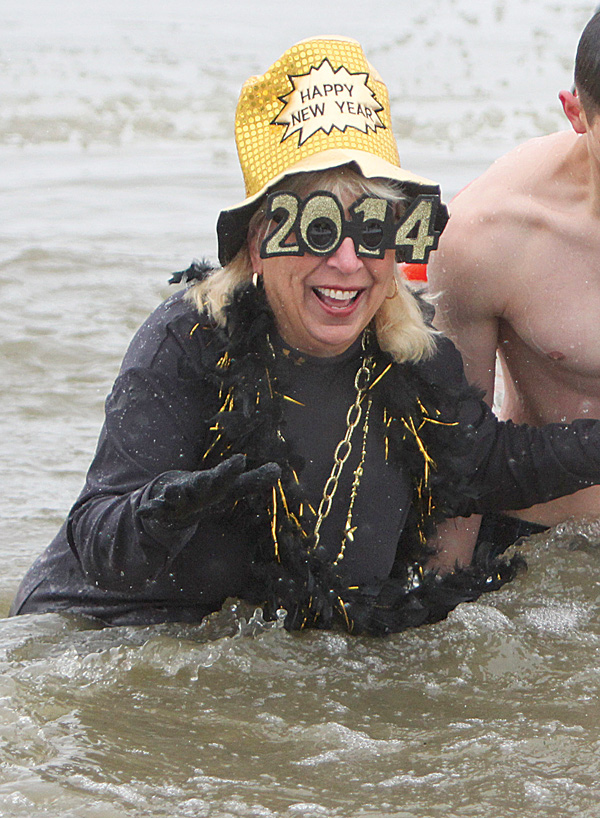 ---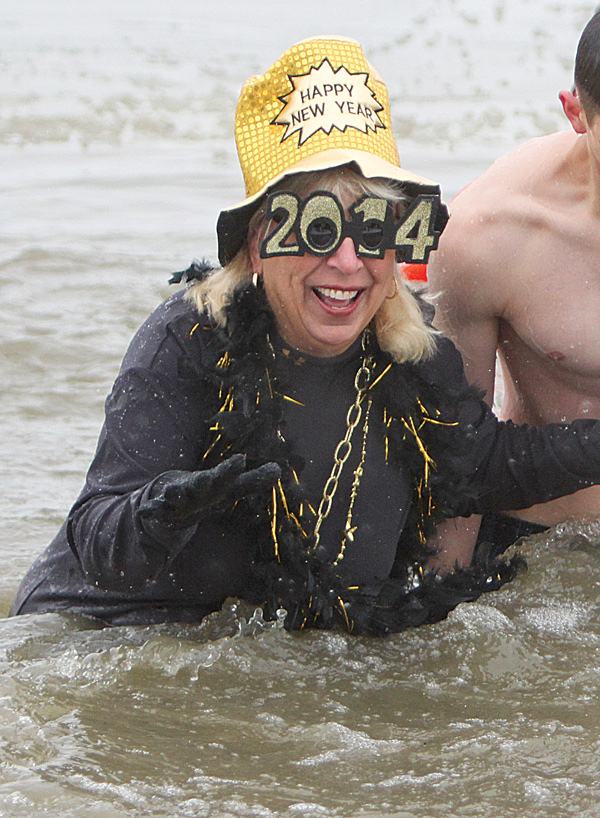 Photo
Mary Ann Slaven wore a costume when she took the plunge, which was sponsored by the Grandview Tavern in the Lake Milton/Craig Beach area.
25 to 30 enter frigid waters of Lake Milton
By Sean Barron
LAKE MILTON
Lauren Hibbard's Christmas break from school partly means a temporary reprieve from assignments, classwork and tests.
Nevertheless, no amount of studying could have prepared the Wadsworth High School 10th-grader for what to expect after jumping into 33-degree water.
"I couldn't even move, I was so cold," said Lauren, of Wadsworth, referring to having spent a brief time in Lake Milton during Wednesday's 10th annual Polar Bear Plunge at the Craig Beach swimming area and beach off Grandview Road.
Sponsoring the event was the Grandview Tavern on Grandview Road here.
Clad in a bikini, wrapped in a towel and dripping wet in 23-degree temperatures, Lauren said the experience was more difficult going into the water than coming out.
"My dad said it didn't count if I didn't get my head wet," added Lauren, whose 8-year-old brother, Sean, also took the icy plunge.
After getting out of the water, at least Lauren wore shoes, which is more than you can say about Gary Hick of Pittsburgh.
"It was absolutely crazy," a barefooted Hick dressed in shorts and T-shirt said shortly after emerging from the water and before returning to a warm spot. "Smart people talk about it; insane people do it."
Hick, who was in the water 10 to 15 seconds and went under, said he was visiting friends who have a lakefront home and decided to partake in the cold endeavor. Accompanying Hick was his wife, Cam, along with several friends and family members, all of whom opted to stay dry.
The New Year's Day event drew about 75 spectators along the shore, as well as roughly 25 to 30 men, women and children who braved the elements to enter the frigid lake.
Despite the low air temperature, most of the men were shirtless or in T-shirts while the women and girls were satisfied to don one- or two-piece bathing suits or shorts.
Others weren't shy about wearing various costumes, including colorful Mardi Gras beads, observed Mike Reinhart of Kent, whose parents, Mike and Kathy Reinhart, own the Grandview Tavern.
"It hurt," the younger Reinhart said, referring to his foray into the lake in shorts. "This year, it stung."