School makes recycling "a way of life."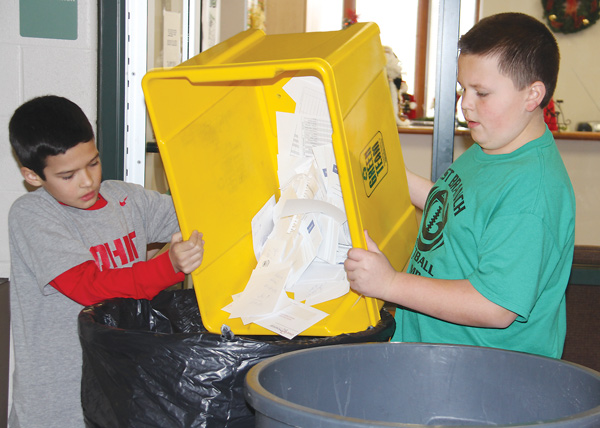 ---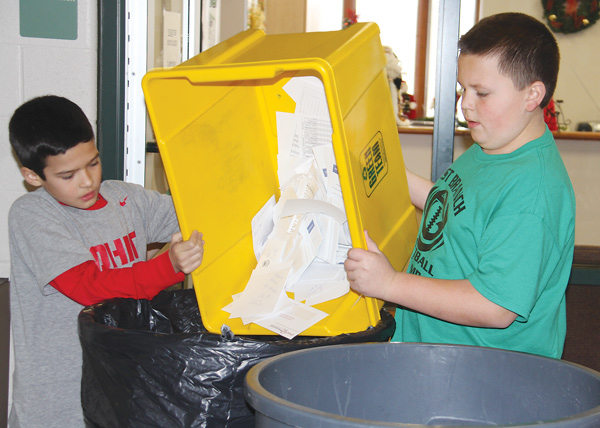 Photo
Ethan Lanave, left, and Caleb Adams, fourth-graders at Damascus Elementary School, empty paper from a recycling bin at the school, which has won numerous recycling awards, including five U.S. Environmental Protection Agency WasteWise awards.
DAMASCUS
Recycling is an integral part of the education of students at Damascus Elementary School.
"It's a way of life here," said Matthew T. Manley, principal of the school, which enrolls 420 students in kindergarten through fourth grade.
"It's been a long-standing tradition here that we recycle," Manley said. "It's a wonderful thing for our environment to do that, and it's a lifelong lesson for students."
At Damascus Elementary School, recycling is incorporated into the math, science and language-arts curricula and taught at every grade level.
"They're learning what they can do to help make the environment better for all of us," Manley said of the students.
The school, which is part of the West Branch School District, recycles cans, bottles, paper, juice boxes and batteries. It also composts its kitchen waste in a bin outside the school.
Recycling is a hands-on learning experience at the school, where recycling collection bins are located in the building. A trophy case is filled with the recycling awards the school has earned.
Damascus Elementary School is a five-time winner of the U.S. Environmental Protection Agency's WasteWise recycling award, most recently in 2012.
It received AT&T's first-place phone-book recycling challenge award in 2011 and has been a consistent first-, second- or third-place winner in the Mahoning County Recycling Division's Cash for Cans recycling competition.
Its recent annual recycling volumes have reached 2,015 pounds of aluminum cans and 4,794 pounds of outdated phone books.
"For us, it's all about students becoming responsible and caring about the world around them," Manley said.
The recycling program also is consistent with the school district's posted slogan: "The Warrior Way: We are respectful, responsible, investigative, optimistic and ready to learn."
The elementary school's recycling program is coordinated by Sue Dattilio, a fourth-grade teacher, who has been involved in recycling efforts there since 1992.
"I want the world clean for my grandchildren," Dattilio said. "I just want to do my part and, I think, at Damascus, we do our part.
"We talk about how you can use the natural resources to the best of your ability," Dattilio said, explaining how she incorporates recycling into her students' education.
"Recycling is good for the planet, and if everyone just threw their trash on the ground, then it could just trash our whole world," said Kennedy Close, a fourth-grader.
"It's a good thing to do. It helps the environment, and it's kind of fun," said her classmate, Kiersten Hofmann.
The school will fully practice the environmental stewardship it preaches at a "zero-waste" communitywide chicken and biscuit dinner from 4 to 7 p.m. Jan. 24.
The meal will be served with washable and reusable school food trays and silverware. All kitchen waste will be composted.
People ordering take-out food must bring their own containers, Manley said.