Two baby girls welcomed as first 2014 Valley births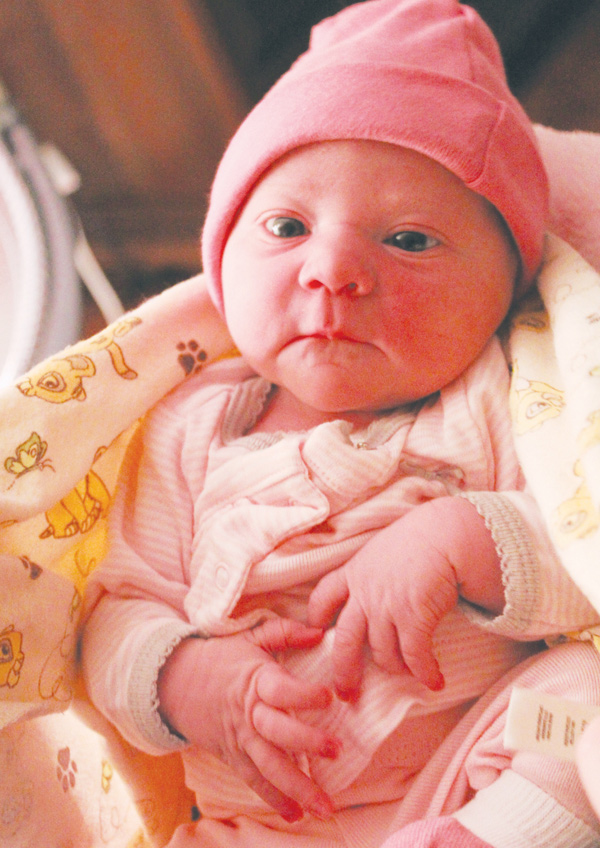 ---

Photo
Kayla Berdine of Columbiana with her daughter, Kaysen, who was the first baby born in 2014 in the Mahoning Valley. She was born at 4:24 a.m. Wednesday at St. Elizabeth Health Center.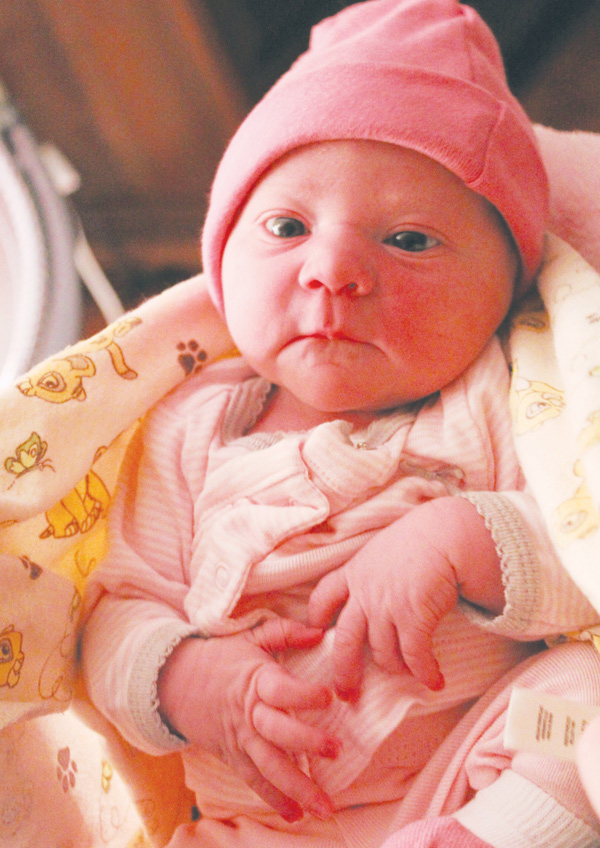 Photo
Briella Corrine de Blok of Columbiana, born at 4:51 a.m., was the second baby of the new year in the Valley. Briella was born at The Mahoning Valley Birth Center.
By Kalea Hall
Two baby girls born just 27 minutes apart nearly tied for first Mahoning Valley baby born in 2014.
The girls are now celebrities throughout the Valley, but the real treat is for their first-time parents.
"I don't care when she came. I am just so glad she came in general," said Johanna de Blok of Columbiana, mother of baby Briella Corrine born at 4:51 a.m. Jan. 1 at The Mahoning Valley Birth Center in Liberty.
Baby Kaysen Leigh Berdine came into the world at 4:24 a.m. Jan. 1. at St. Elizabeth Health Center.
"It's crazy and overwhelming," said Kayla Berdine of Columbiana, Kaysen's mother. "She made her TV debut at just 13 hours old."
Kaysen came earlier than expected. Her mother's due date was not until Jan. 23.
"New Year's Eve is going to be a huge party now," Kayla said.
Grandma Chris Berdine, Aunt Miranda Kraft, grandpa and more family and friends already joined in on the party for the 6-pound 4-ounce, 20.5-inch long baby girl. The family lined the room and took turns holding the newest member to the family, and the first grandchild.
"I bawled like a baby," said Kraft of her niece's arrival. "[There are] so many emotions and feelings that come through."
The child even has her own pink piggy bank so family and friends can pay whenever they want to hold the bundle of joy.
Mom finally had in her arms after many hours of labor, which started at 8:25 a.m. Dec. 31.
"It's awesome," Kayla said. "It was a long road."
Baby Briella came a little later than expected. Her mother, Johanna, was due Dec. 27.
"I think New Year's Day is a wonderful day to have a birthday," Johanna said.
Johanna and her husband, Henderik Albertus Juriaan de Blok , of Columbiana welcomed their 7-pound 7-ounce, 20-inch long baby girl in a natural, holistic water birth.
"I was up within moments," Johanna said. "We were basically partying after she was born. She is everything I dreamed of."
The Mahoning Valley Birth Center on Belmont Avenue is the only center within 50 miles of the area that offers water births. Johanna had a certified nursing midwife, licensed nurse, her husband and a breathing coach to help her through the eight and half hours of labor.
Johanna recommends the birth center to any future mother wishing to find other alternatives to a hospital birth.
"It was just a beautiful birth," she said.
The third baby born in the Valley on Jan. 1 , and the first boy, is Eugene Bowens Jr. born to Gaynelle Grave and Eugene Bowens Sr. of Youngstown at ValleyCare Northside Medical Center. Eugene came earlier than expected. His mother was due Jan. 11.
"It is a real good feeling," said Grave of her son's New Year's Day birth.
In Trumbull County, St. Joseph Health Center had a baby boy born at 10:07 a.m. to Stephanie Tutor and Paul Potts of Southington. The baby is named Wyatt Potts and he was due to arrive Jan. 13.
At ValleyCare Trumbull Memorial Hospital, Nicole Reitz of Girard and Robert McGuire of Youngstown had a baby girl named Riley Marie McGuire at 12:50 p.m. Jan. 1. She came a little later than expected. Her mother was due Dec. 29.