St. Christine School has wax museum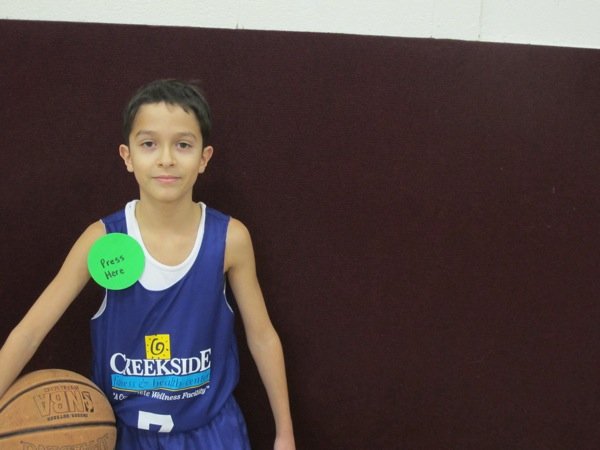 ---
By TIM CLEVELAND
When learning about famous people throughout history, most classes take the normal route – they study facts so they can answer questions on a test. For Katie Gries' fourth-grade class at St. Christine School, they took a much different direction.
Gries and her students came up with a unique project. The 17-student class was assigned to come up with a person in history from any era. They would study that person and dress up for them for the school's wax museum project on Feb. 12. The students lines up throughout the auditorium, each wearing a button that read "press me." Upon pressing the button, the student would name five facts about the person they chose.
"They have really been in to famous people," Gries said. "Presidents Day is this month, and in history we've been discussing presidents, we've been discussing the revolutionary war and we've done other projects related to that. They thought it would be fun to dress up and to study presidents. From there, it kind of came into, let's read biographies on other famous people. I said, let's have an opportunity to read biographies on famous people, living or deceased. They'll get the opportunity to recite several facts and share them with parents and other students."
The subjects the students chose ran the gamut, from presidents George Washington and Abraham Lincoln, to athletes Gabby Douglas and Isiah Thomas, feminist icon Susan B. Anthony and recording artist Taylor Swift.
Anthony Ciavarella chose baseball star Alex Rodriguez as his character. He said Rodriguez's background was the deciding factor in making his selection.
"He's unique," Ciavarella said. "I liked how when he was young, he had nine different coaches. He grew up with a really poor family. He wasn't rich and wealthy. To see what a change he did from when he was little to now, I thought was really interesting. Not to mention he started playing baseball when he was 3. I thought since he was so into the game, I wanted him to be my character for today."
Ciavarella was asked about the research he did to learn about Rodriguez's life.
"I actually read a couple books about him," Ciavarella said. "A few 400-, 500-page books about him. I found a lot of stuff out – not only did he play for the (New York) Yankees, he played for two other different teams, the Seattle Mariners and the (Texas) Rangers. Considering he played for three teams and that he has the (fifth-most) home runs ever in the MLB, I thought that was the most unique person I could find. I found out a lot of information about him."
Gries said the students benefited in multiple ways from doing the project.
"They're learning about someone that's famous where we're tying it in to the common core standards with literacy, comprehension skills, being able to summarize, being able to take a piece of what was important in history," she said. "A lot of them were able to tie them and relate to what they've learned in history class. It also helps with their presentation skills and speaking out loud in groups of people."
One students who improved his public-speaking skills by doing the project was Steven Chahive, who portrayed the NBA's Juwan Howard.
"I did something like this before, but I wasn't that good back then," Chahive said. "Now, she [Gries] said that it would've been more sophisticated than last time, so I thought maybe that could kind of help me improve my skills on doing this."
With the popularity of the wax museum, especially with students like Chahive becoming more comfortable around groups of strangers, Gries said the project is certainly one she will be using in the future.
"Oh definitely," she said. "They've worked so hard and they've loved it. A lot of them have had a difficult time speaking in front of groups, and a lot of them have come out of their shell and they've done a beautiful job with speaking in front of groups like this."