YPD officers go hairy on the job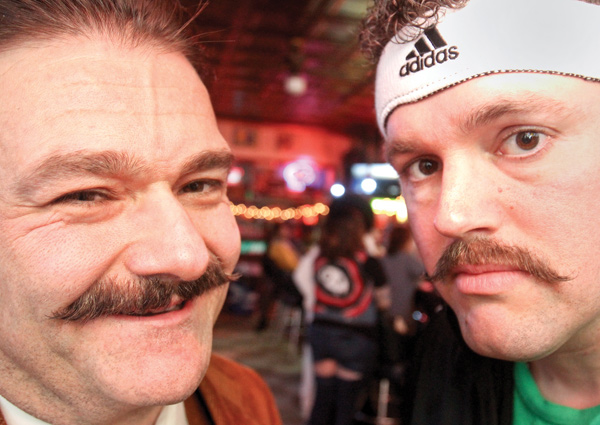 ---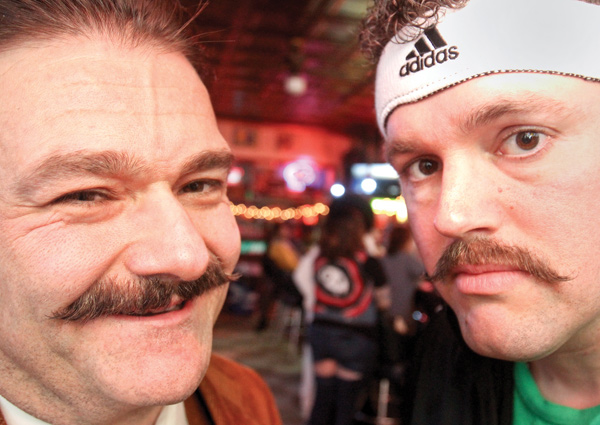 Photo
Youngstown Police officers Mike Marciano, left, and Michael Fox, sport mustaches during a party Wednesday at Royal Oaks in Youngstown. City officers on midnight turn organized a mustache contest as a fundraiser for the Michael Hartzell scholarship fund. Hartzell was a police officer killed in the line of duty in April 2003.
By Joe Gorman
YOUNGSTOWN
There is no denying that at times being a police officer can be a hairy proposition.
This is no more true than at the city police department, where officers on the midnight turn and some others decided to honor their counterparts from the 1970s and also raise money for the Michael Hartzell scholarship fund by having a mustache-growing contest.
Hartzell was a police officer killed in the line of duty in April 2003.
The contest started Jan. 1 and ended Wednesday with a 1970s-themed party at the Royal Oaks on Oak Street. Officer Mike Marciano, who thought up the contest, said he got the idea from looking at old photos of officers from the '70s, and they all had big, thick mustaches.
"It seemed like you had to have a mustache to be a policeman," Marciano said.
Some officers from other shifts also are taking part. Officer Michael Cox, who works day turn, has been a participant. He said he especially likes it because he thinks it's a way to help bridge the gap between officers on midnights and the other two shifts.
Cox said officers used to rotate every two weeks between midnights and afternoons, and some of the connection among the shifts has been lost since the department has kept to steady shifts.
Cox said he also likes the contest because it helps the officers, especially on midnight, have a common bond and fosters camaraderie. He said midnights are the hardest shift to work, both mentally and physically, so something that can help bring the officers closer together is a big plus.
Cox has never had a mustache and said he has gone through three stages of development during the process of growing it.
"At first I thought it was horrible," Cox said. "Then there was a period of time I wanted to stick my chest out. Now, I'm ready for it [contest] to be over."
Officer Nick Menichini, who also works midnights, is another participant. "It was nice to see a bunch of guys get together for something that's a group effort," Menichini said.
He said the mustaches have brought a lot of jokes, especially when he's on patrol and runs into people on the street.
"They want to know why I have a 'copstache,'" Menichini said.
Menichini said he probably will shave his mustache off once the contest ends.
One officer who will not be shaving when the contest is over, at least for awhile, is Ryan Laatsch, who also works midnights. Laatsch said he has never had a mustache before except as part of a goatee but he kind of likes it.
Laatsch said the thing he likes best about the contest is how it puts a spring in everyone's step on midnights. He said it is a hard turn to work, especially when you have to go to court appearances during the day, which causes you to lose sleep, and at times you can go awhile without seeing your family much.
"It's something different," he said of the contest. "It breaks up the everyday monotony."
As for keeping the mustache, Laatsch said at one point he'll probably shave it off, but for now, it has grown familiar.
"I felt why come this far and shave it off? So I decided to keep it," he added.
One officer who won't be keeping his mustache is Jerry Fulmer, who also works midnights, despite reviews from his colleagues that his is one of the best ones.
Fulmer said he had a mustache in high school "but I didn't look very good."
He said, however, he has decided not to keep the one he grew for the contest once it ends.
"It's itchy, and I don't like the way I look in it," Fulmer added.