Published: Thu, February 27, 2014 @ 4:37 p.m.
Video Set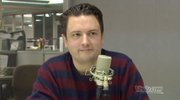 Eric Wilhelm of WFMJ discusses weather, winter, and work.
The spring equinox will come March 20, officially heralding the end of Winter 2014. WFMJ's night weather master Eric Wilhelm will visit with Franko and Free to discuss this wacky winter at 11 a.m.