Struthers finishes off pesky West Branch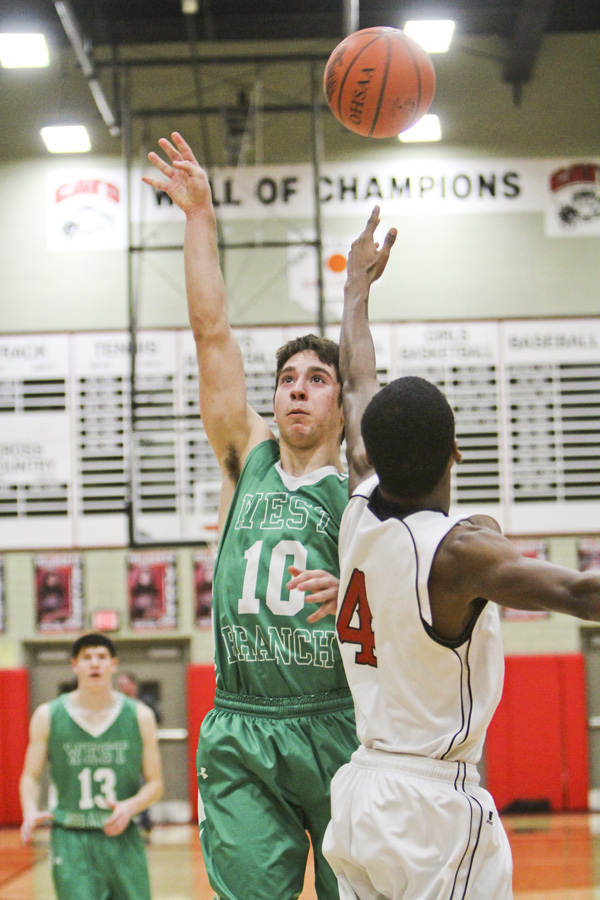 ---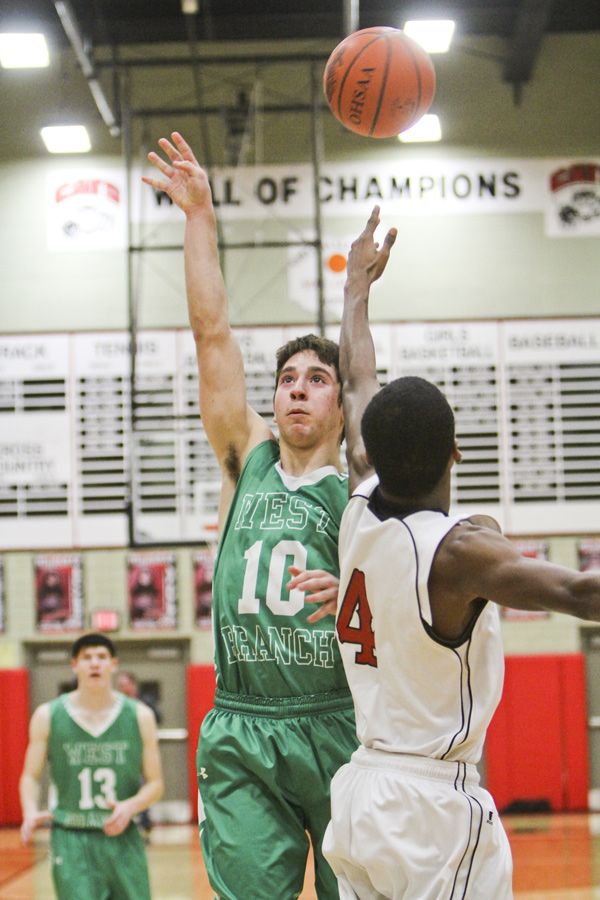 Photo
Struthers Ray'Quan Phifer (4) blocks a shot by West Branch's Jerian Thomas during the second half of their Division II sectional semifinal Wednesday at the Struthers Fieldhouse. The Wildcats defeated the Warriors, 71-58, behind Phifer, who scored a team-high 20 points.
Wildcats advance
to meet Poland again
By STEVE WILAJ
sports @vindy.com
STRUTHERS
As much as Struthers High tried to put West Branch away on Tuesday night, the Warriors — leaning on the ropes — punched back.
It happened in the second quarter when West Branch closed the deficit to one at halftime. It happened in the third when a 12-0 Struthers run to open the quarter was answered with a 9-0 Warriors run.
And just when it looked like it might happen again in the fourth as West Branch cut a deficit to eight after a 10-0 Wildcats spurt, Struthers coach Joe Savko called a timeout.
"We told them we just have to focus and execute," he said. "We told them to play solid defense, play fundamental and rebound. And it got us over the top."
The Wildcats (9-14) finally landed the knockout blow midway through the fourth quarter, securing a 71-58 victory at the Struthers Fieldhouse in the first round of the Division II tournament.
"You gotta give them credit. Every time we jumped out to a lead, they fought right back," Savko said. "There were numerous times it happened. It was like we couldn't get rid of them, but thankfully we got the job done."
West Branch coach Lou Sellaroli pointed to the Warriors' poor shooting of just 32 percent from the field (23 of 72) as the reason they couldn't quite get over the hump.
"Every time they needed a bucket, they got it and every time we really needed one, we couldn't get that one main hoop," Sellaroli said. "The bottom line is you gotta make shots. We work hard to score and have to make the most of our opportunities. We had good looks. They just didn't go."
Struthers shot 40 percent (25 of 61) and had four players in double figures. Ray'Quan Phifer led the charge with 20 points, Dalton Moore scored 12, Kyle George added 11 and Austin Yemma chipped in 10. Tameko Holness also scored nine points.
"This was one of the first games we've had where we all score like that," said Phifer, who grabbed a team-high 10 rebounds. "And it came at a good time. It's a good start to the tournament."
Savko, who's Wildcats connected on eight of 20 shots from beyond the arc, said the balanced scoring was key.
"Dalton, Austin and Kyle can shoot and then Kyle does the dirty work, too," he said. "Then Tameko can make a lot of plays. It was nice to see them all around double digits."
Jerian Thomas led West Branch (6-17) with 21 points, while Dustin Greenawalt scored 11 and Kip DeShields added 10 points and 12 rebounds.
Struthers next travels to Poland (20-2) on Saturday. The Bulldogs beat the Wildcats, 62-57, last Friday.
"We told our guys in the locker room that we know we can play with them," Savko said. "We just have to go out and focus and do it."