Mooney makes most of home date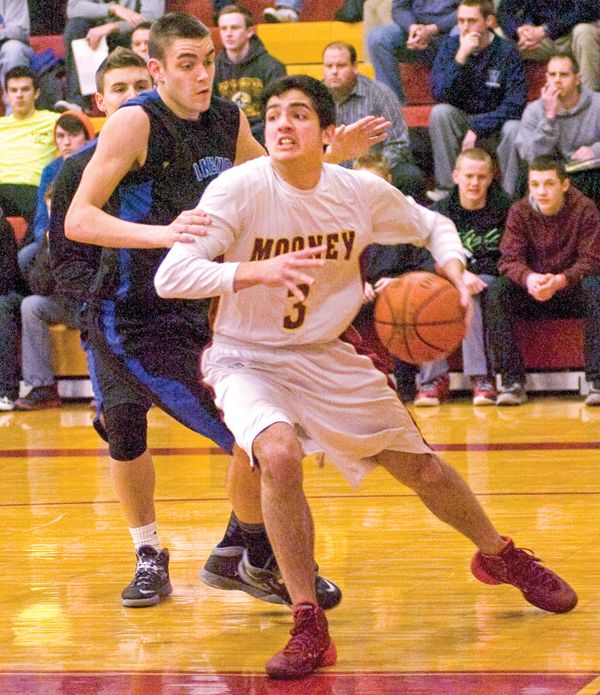 Photo
Mooney forward Ross Lanzo drives toward the basket against Lakeview defender Tom Bell during the first half of their Division II sectional semifinal Wednesday at Cardinal Mooney High School in Youngstown. The Cardinals downed the Bulldogs, 53-30.
Cardinals rout Lakeview in sectional
By BRANDON JUDEH
YOUNGSTOWN
When Cardinal Mooney senior Marcus Penza first heard of the new playoff format for high school basketball he was instantly excited.
In the new brackets, the higher seeds would have the chance to host one and possibly two playoff games and the Cardinals took full advantage of their No. 3 seed as they dominated Lakeview, 53-30, on Wednesday night.
"It was a great feeling knowing we would get a couple extra games here at our home gym," Penza said. "We have such a great student section and great fans overall. I really like how the tournament has been restructured because it rewards the higher seeds."
Fellow senior Ross Lanzo agrees with Penza.
"I really like how they did the playoffs this year," Lanzo said. "It's pretty cool being a senior and getting that chance to play in front of your home crowd an extra time or two."
The Cardinals (13-10) didn't come out playing like it could be their final game, as it took them nearly five minutes to score their first points of the game after starting out 0-for-8 from the field.
It took Lakeview (4-19) 4:30 to score its first points of the game as the Bulldogs took a 2-0 lead. But it was Lakeview's only lead of the game.
The horrific first quarter ended with Mooney ahead 7-2, but things got better for the Cardinals and worse for the Bulldogs.
Mooney found its stride in the second period as its suffocating defense and great ball movement helped the Cardinals grab a 22-point advantage. Danny Martin, who finished with a game-high 12 points, sparked Mooney with three 3-pointers.
"The slow start was just a matter of our guys trying to relax and get in a rhythm," Mooney head coach Brian Danilov said. "Nerves are always involved with the start of the tournament, but once we got some stops and scored some buckets we were fine,."
Mooney sophomore Andrew Armstrong led the Cardinals' first-half defensive effort with six of his game-high 10 rebounds.
Lanzo and Joey Kleeh each scored nine points.
Senior Jake Pishotti led Lakeview with nine points in his final game. Junior Tom Bell led the Bulldogs with nine boards.
"These kids, especially the seniors, played their hearts out tonight and all season long," Lakeview head coach Craig Mild said. "Having only four wins they could have easily of quit on us, but they never gave up and constantly worked hard and kept trying.
"We have a nice group of kids coming back next year so we are really looking forward to seeing what they can do."
Mooney will host 12th-seeded Crestwood at 7 p.m. on Saturday with the winner moving on to play at Warren G. Harding High School in the district semifinals.