Howland's Whisler took 4th last season and wants more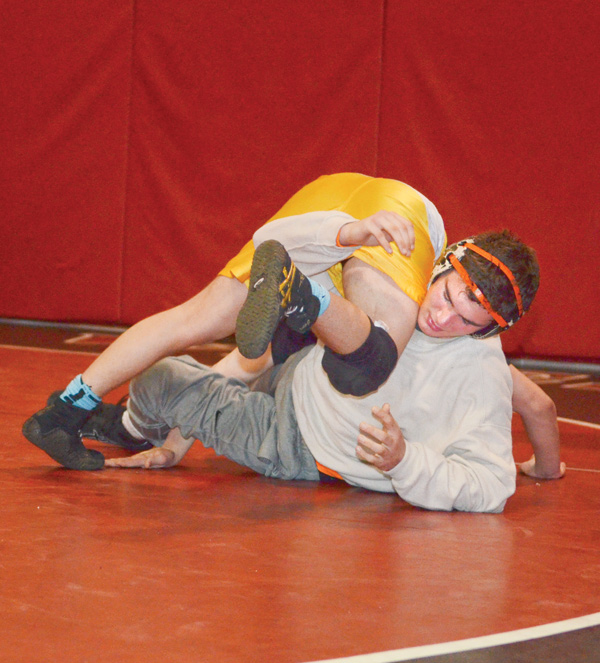 ---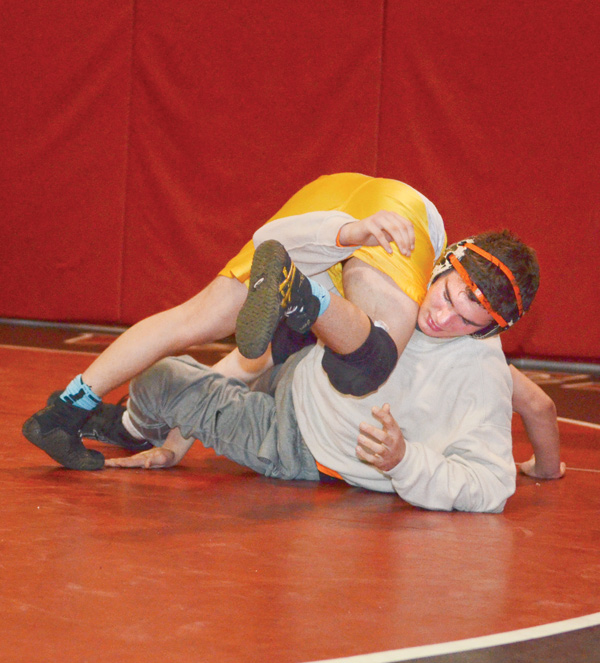 Photo
Howland wrestler David-Brian Whisler, bottom, practices with Canfield's Georgio Poullas during wrestling media day on Tuesday at Canfield High School. Whisler, who will compete this weekend in Division II, is looking to improve on his fourth place finish at last year's state tournament.
David-Brian Whisler took fourth place at the state tournament last season and now wants more
CANFIELD
When Howland junior David-Brian Whisler takes to the mat this weekend at the Jerome Schottenstein Center in Columbus, he'll be carrying some added weight on his 152-pound frame.
Looking to improve upon a fourth-place finish in Division II last season, Whisler will also be wrestling for a teammate whose season came to an abrupt end less than two weeks ago.
Mike Bell, the Tigers' 220-pound wrestler and co-captain, was running sprints with the rest of his teammates at Austintown Fitch high school during a sectional tournament practice when a freak accident happened.
Bell's foot got caught awkwardly as he was turning around, resulting in a broken fibula and an end to what was a promising junior season.
Howland wrestling coach Bill Beasom said it was a tough thing to swallow, especially since Bell was expected to make a run at the state tournament after being an alternate last year.
"He's got a very positive attitude," Beasom said. "He came to the districts last weekend [at Alliance] and sat there and watched a few kids that he's beaten this year and they're going to the state tournament.
"So I'm sure he's a little bummed out about that, but the one great thing that he told me was that he didn't have any regrets. He put all the work in that he could and just said it was a freak accident and just to be ready for him for next year."
As for this year, the Tigers are hoping Whisler can bring home a second consecutive state championship after Gabe Stark won the 145-pound title last season.
Whilser would rather have some company this weekend, but nothing is going to affect his mindset.
"I know I'm good enough to go down there and win it," Whisler said. "I mean that's the goal, that's what we've been training for all year. Taking fourth place last year was awesome and I felt satisfied with it, but not this year."
Whisler said he felt a little overwhelmed by the environment the first time around, but expects his attitude to be business as usual when he arrives today.
"His attitude has never really varied," Beasom said. "I've known him for a long time and it's a great feeling to have someone like that, who loves to do it, who puts in some extra practice every night. His work ethic is unbelievable and his attitude just about life in general is great."
That's one explanation for how he's been able to stay focused after watching his teammate and friend's season come to an disappointing end.
"I feel horrible, but he's got one of the best attitudes of anybody I know," Whisler said of Bell, who had surgery to repair his leg Wednesday. "In a situation like that, I guess he's looking at it as positive as possible."
He said received a text from Bell that read: "My season's over, but yours is just getting started. Go out there and win a state title for me."
Whisler appeared to be more than ready for the challenge as he put in some last-minute work with other area wrestlers in Canfield's wrestling room Tuesday afternoon.
"One of my coaches said we're just like hungry tigers waiting to be let out of the cage," Whisler said. "Well, we're here finally. They're letting us out."