Second Harvest kicks off annual campaign to feed the hungry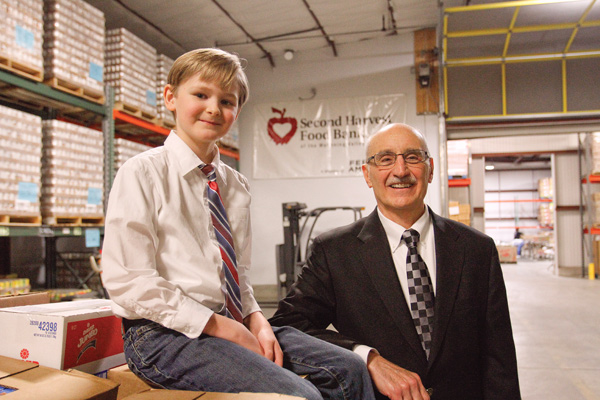 ---

Photo
Braxton Hollis, 9, of Howland, has collected more than 2,000 pounds of food that he has donated to Second Harvest Food Bank of the Mahoning Valley, which put a smile on the face of Michael Iberis, food bank executive director. The food bank kicked off its 23rd annual Harvest for Hunger campaign Wednesday at the organization's headquarters on Salt Springs Road in Youngstown.
By Sean Barron
YOUNGSTOWN
If you ask 9-year-old Braxton Hollis why he enjoys collecting food for those less fortunate, expect a response free of fancy additives.
"This is one of my favorite things to do," explained Braxton, a third-grader at North Road Intermediate School in Howland. "I was on vacation and just decided I wanted to help people get food they can't get."
Suffice it to say he has done just that. By his estimate, Braxton has collected more than 2,000 pounds of food that has been distributed to Mahoning Valley residents in need.
He also was among those who attended the 23rd annual Harvest for Hunger
campaign kickoff Wednesday at Second Harvest Food Bank of the Mahoning Valley, 2805 Salt Springs Road.
Sponsoring the food-and-funds drive set for March and April are The Vindicator, 21 WFMJ-TV and WBCB, Cumulus Radio, Giant Eagle and United Food and Commercial Workers Local 880.
Braxton began his efforts four years ago and wanted to convert the family garage to a food bank to help those less fortunate, explained his mother, Courtnie Braxton, who recalled having told her son about Second Harvest. Now he has family members, relatives and friends fill bags that he takes to the agency, she said.
The campaign, which gets underway Sunday and runs through April, is to help stock Second Harvest's shelves for the spring and summer, typically when donations decrease, noted Michael Iberis, the agency's executive director.
Last year, the food bank distributed about 9.2 million pounds of food, which set a record, he pointed out.
The need continues to grow in part because during the 2012-13 school year, 52.6 percent of children in Second Harvest's service area qualified for the free-lunch program. This school year, 53.6 percent qualify, which means a 1 percent increase in the number of youngsters who live below the poverty line, Iberis continued.
"Help us raise food and funds and you help us feed people. It's as simple as that," he said, adding that all proceeds and donations stay in the Valley.
Among those spending a lot of time in that way is Andy Gretsinger, 15, a member of Boardman-based Boy Scout Troop 60 who's working on his Eagle Scout project.
Andy, a ninth-grader who attends Ohio Virtual Academy, an online school, estimated he has collected 2,200 pounds of food. His efforts include placing donation barrels at area Giant Eagle stores, then bringing them into the food bank when filled.
Accompanying Andy were his mother, Lynn Gretsinger, and his 13-year-old sister, Daisy.
Part of the campaign is Giant Eagle's Check Out Hunger program, which allows customers to tear off and use $1, $5 and $10 coupons at the registers, noted Rich Banks, a manager with the Howland store.
For every $1 used in the effort, Second Harvest can distribute about $15 in food, Banks explained, adding that the program will be Sunday to April 19. In addition, participating Sparkle Markets and Walgreens Pharmacy stores are to take part through March.
Efforts such as Harvest for Hunger are vital largely because hunger affects people in all areas, noted Mike Case, a broadcaster at 21 WFMJ-TV.
"It's not just an urban problem. Hunger is a suburb problem and a kid problem," Case said.
Additional remarks came from Nena Perkins, The Vindicator's community-events manager; Matt Spatz, Cumulus Radio's program director and host of the "Spatz in the Morning" program; and Becky Miller, Second Harvest's resource-development manager.