Federal indictment also includes Boardman man
By JOE GORMAN
jgorman@vindy.com
YOUNGSTOWN
Attorneys, Boardman man indicted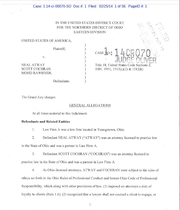 Document
A federal grand jury in Cleveland returned this indictment Tuesday, Feb. 25, charging Attys. Neil Atway of Youngstown and Scott Cochran of Austintown, and Mohd Rawhneh of Boardman with extortion, conspiracy and obstruction of justice.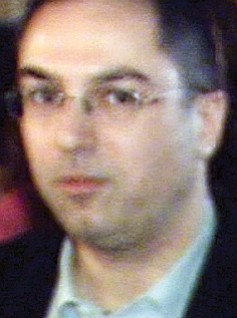 Photo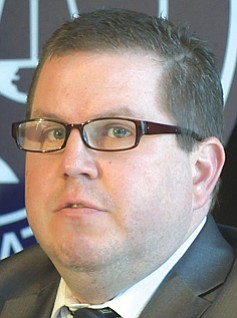 Photo
Two attorneys are accused of conspiring with another man to extort money and property from a victim in a federal court case.
A federal grand jury in Cleveland on Tuesday returned an indictment in the U.S. Northern District Court of Ohio against Neil Atway, 47, of Youngstown; Scott Cochran, 43, of Austintown; and Mohd Rawhneh, 54, of Boardman.
The indictment was released Wednesday.
They face charges that involve violating the Hobbs Act, which is extortion by the wrongful use of actual or threatened force, violence, or fear; conspiracy; and obstruction of justice.
Atway and Cochran also face separate counts of obstruction of justice for making false statements in November 2012 to FBI agents who investigated the case. Each also faces a single count of making a false statement to law enforcement for those statements.
All three were arraigned before U.S. Magistrate Judge Kenneth S, McHargh and all three entered pleas of not guilty.
Rawhneh and Cochran each posted appearance bonds of $25,000 and Atway posted an appearance bond of $250,000.
A message left for Cochran at his law office was not returned. Efforts to reach Atway were also unsuccessful Wednesday.
The indictment alleges the three tried to extort money from a store owner, Charles B. Muth, who was involved in a shooting at the Boardman home of Rawhneh's ex-wife on Dec. 28, 2011, on Jaguar Drive.
Muth was given a sentence of 18 months in Mahoning County Common Pleas Court in June 2013 for that shooting on charges of ethnic intimidation and aggravated assault, to run concurrent with a sentence he received in a federal case that grew out of that shooting, according to the indictment.
Muth was involved in a business dispute with Rawhneh, which precipitated the shooting, in which no one was injured.
The indictment said when Muth was a suspect, police got a search warrant for his house and found 100 marijuana plants, which drew the involvement of the federal Drug Enforcement Administration and led to charges in federal court.
Muth received a sentence of five months in federal prison in April along with three years' probation.
Muth retained Atway to represent him in the federal and state cases. Cochran and Atway are law partners.
On occasion, Cochran helped represent Muth in the state case in common pleas court.
The indictment says the three — Cochran, Atway and Rawhneh — conspired between April and November 2012 to extort money and property from Muth, who owned convenience stores locally and in East Liverpool.
The indictment says Muth recorded his conversations with the lawyers and that he cooperated with officials in the federal investigation.
The indictment is peppered with recorded conversations between mostly Atway and Muth, but Rawhneh was recorded telling Atway about how much he wanted Muth to pay him.
Atway can be heard telling Muth that Rawhneh could go to his sentencing in the federal case and make things worse for him.
Cochran is also recorded in meetings telling Rawhneh that they will make sure Rawhneh got paid.
The FBI interviewed Atway and Cochran, and the indictment charges that they knowingly lied to agents who were investigating the case.
The first interview was in November 2012, according to the indictment.
Cochran at one time was a member of a county bar association committee studying recommendations for court consolidation in the county.