YSU women have goals beyond beating Green Bay
---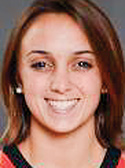 Photo
By Joe Scalzo
YOUNGSTOWN
Seconds after Youngstown State senior Liz Hornberger completed the second-to-last task on her checklist on Sunday, she danced off the court, gave low-fives to teammate Latisha Walker and then ran straight into the arms of senior Monica Touvelle.
The Penguins had just beaten Green Bay 72-63 at the Kress Center — erasing the memory of an 84-25 loss to the Phoenix on the same floor three years earlier — and Hornberger wanted to celebrate with one of the only players who truly understand what Sunday's victory meant.
"I remember we played a lot in the second half [of the 2011 game] — me and Mon and the kids on the bench — and I went up to Mon when they were shooting free throws and I said, 'Mon, I never, ever want to lose like this here ever again,'" Hornberger said. "I know we talked about it before — we want to beat Green Bay here [in Wisconsin]. That was right at the top, right after winning a Horizon League title and going to March Madness.
"Beating Green Bay at Green Bay was right with it."
Hornberger played 24 minutes in that 2011 game. Touvelle played 19. They combined for zero points as YSU went scoreless over the first 10 minutes and fell behind 26-0.
Fast forward to Sunday's game. Hornberger had 14 and Touvelle had eight as the Penguins swept the season series against a team that had been 29-1 against them entering this season.
Afterward, inside a raucous locker room (that featured a crying Hornberger), head coach John Barnes praised his team for winning in a hostile environment and said, "I'm proud and we're going to enjoy the heck out of it ..."
He then paused, waited for the screaming to stop and said, "But ... but ... we're not done. This isn't our Horizon League championship, right? It's a big piece of it, but we've got a long way to go yet."
He had the same message at Monday's press conference. YSU (13-12, 9-3 Horizon) is in a three-way tie for first in the conference with four games left and the Penguins control their own destiny.
But, as he said, "If you take any night off in this league, you're getting beat."
That's why YSU considers today's home game against UIC just as important as Sunday's game against Green Bay.
"You're only as good as your next game," Barnes said. "I think this past weekend really showed us how tough we need to be to win games down the stretch. Hopefully the team takes this weekend and builds on it."
YSU has never won a Horizon League title and Hornberger said the team realizes what's possible.
But she also knows the Penguins aren't talented enough to take anyone for granted.
"I hope that every time we get too confident, we think back to that three-game losing streak we had," she said. "We're not as good as we think we are sometimes, no matter how many wins we've had in a row. We've won these past two games because we played hard and we played together and no matter what goes wrong, we stick together and that's what we need to do these last four games because that's the only reason we're good.
"We're not good because we're really athletic. We're not awesome shooters, but we knock down open shots. So if we continue to do the things we did on the road, I see us winning the next four games."