Published: Wed, February 26, 2014 @ 4:26 p.m.
Tressel Watch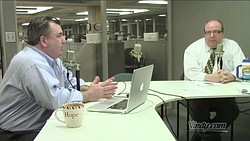 Video Set
Vindy Radio was live from 8 a.m. to noon Feb. 27 with host Louie Free.
At 8:30, JoAnn Stock, director of development at Akron Children's Hospital's Boardman Campus, and Allison Engstrom, development co-ordinator at the hospital, will be joined by Barb Shaffer, Vindicator Society/Features editor, to discuss the upcoming American Girl Doll Fashion Show and the essay contest that The Vindicator conducted in conjunction with the show.
Kate Benson, founder of the Matrix Essential Training Alliance, is a nationally recognized trainer in the education sector. She is responsible for developing and delivering a wide range of courses focusing on communications, interpersonal skills and support for students and staff. She will chat with Louie at 9 a.m.
We've traveled into week two of "Tressel Watch." At 10 a.m. we'll roundup the chatter we're hearing in a Vindy roundtable with Bertram DeSouza, Mark Sweetwood, Todd Franko and Louie Free.
Go to vindy.com/radio to listen to the show live, or vindy.com/mobile/vindy-radio to listen from your smartphone.
Click here to listen to the show.
Vindy Talk Radio Studio: 330-333-4454