U.S. Phantoms pay off bet with off-key rendition of 'O Canada'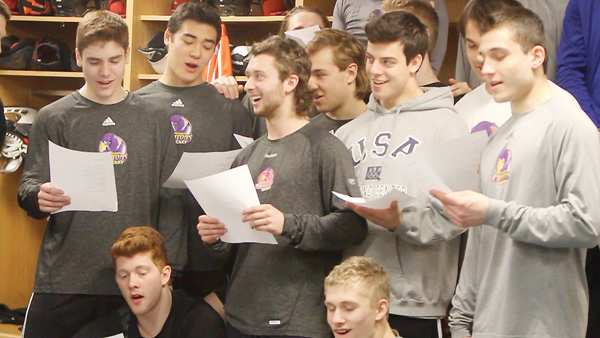 ---
Oh Canada

Video
The Youngstown Phantoms sing the Canadian national anthem to pay off a friendly wager on the outcome of Olympic hockey.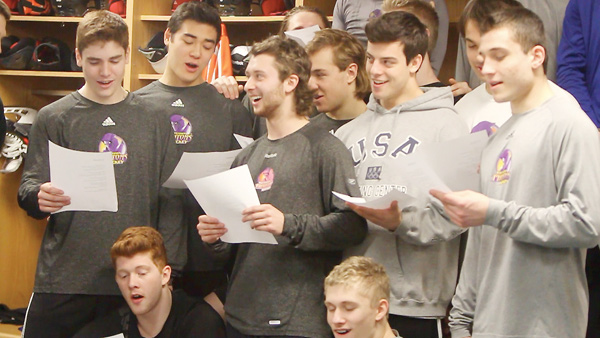 Photo
American members of the Youngstown Phantoms hockey team sing "O, Canada" before Tuesday's practice for teammate Bo Pellah and assistant coach Brad Patterson, both of whom are from Canada. The players and coach made a wager on Olympic hockey in which the losers had to sing the other country's national anthem.
By Tom Williams
"O Canada, our home and native land ..."
Canada's national anthem resonated in the Youngstown Phantoms' lockeroom Tuesday afternoon at the Covelli Centre.
It wasn't by choice. And it wasn't pretty (gritty is more like it).
Still, it was beautiful music to British Columbia natives Brad Patterson (assistant coach) and Bo Pellah (defenseman).
During last week's road trip to Green Bay, Wis., the Americans on the roster (that would be everyone except Pellah, Lukas Klok, Alfred Larsson and Max Lentunov) challenged the Canadians to a wager over the USA-Canada hockey game in the Winter Olympics semifinals. Supporters of the losing team would sing the winner's anthem.
Canada won, 1-0, in Friday's semifinal in Sochi, Russia. The Canadians went on to win the gold medal with a 3-0 victory over Sweden while Team USA flopped in Saturday's bronze-medal game, losing 5-0 to Finland.
"It was after practice and they wanted to make a wager," said Patterson, who grew up in Cranbrook, B.C, "I told them I'd bet them anything they wanted. This is what we came up with."
It's not the first time Patterson has made such a wager.
"After the world juniors [tournament] two years ago, I had to sing the American anthem to our whole youth program because the Canadian team lost," the former SteelHounds forward said.
Who sang better?
"I knocked it our of the park," Patterson said. "I was pretty good."
Pellah, who is from Burnaby, B.C., graded his teammates with "an A for effort, but their singing was pretty subpar.
"A couple of guys weren't into it, they weren't showing enough emotion," Pellah said. "I don't think half of them even knew the lyrics."
Patterson prepared for that by providing lyric sheets.
"The Buffalo kids knew it," said Patterson, referring to forward Zach Evancho and defenseman Kyle Mackey.
"Back in elementary school in music class, they would teach us both [anthems]," said Mackey whose family lives down the street from the Evanchos in Derby, N.Y. "I've known the words for quite a while now."
Both grew up cheering for the NHL's Buffalo Sabres.
"At the Sabres games, they play both [anthems]," Evancho said." A lot of people say that basically we're Canadian because of how close we are.
"Growing up playing hockey, we'd always go over the border and play those teams," Evancho said. "Sometimes we'd even practice more over there than we did in the States."
Evancho admitted he challenged the Canadians to the wager.
"I proposed a bet to Patter, but we didn't know the terms," the second-year Phantom said. "He suggested that we sing and I felt pretty confident that the U.S. would win."
He wasn't alone — Team USA had scored 20 goals in its first four games. Canada struggled against Latvia, winning 2-1.
"I was pretty confident about it," Mackey said.
Their confidence wavered once Canada's Jamie Benn scored in the second period.
"After they scored, I started rehearsing the lyrics of 'O Canada.' " Evancho said.
The Canadians swarmed, stifling the Americans' offense to post the shutout.
"They weren't getting a lot of chances, they were stuck in their zone a lot of the time," Mackey said.
As Pellah spoke, defenseman Steven Ruggiero walked past on his way to the ice and whispered to his teammate, "Unholy Canadian."
Still, Evancho was pleased with how his teammates responded, saying there are "certainly worse ways to pay off a bet."
Only if you ignore why hockey players aren't invited to audition for "American Idol."