Bunny Lane opens at Kraynak's in Hermitage, Pa.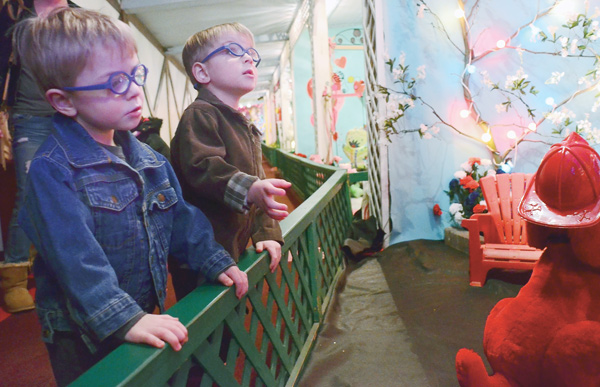 ---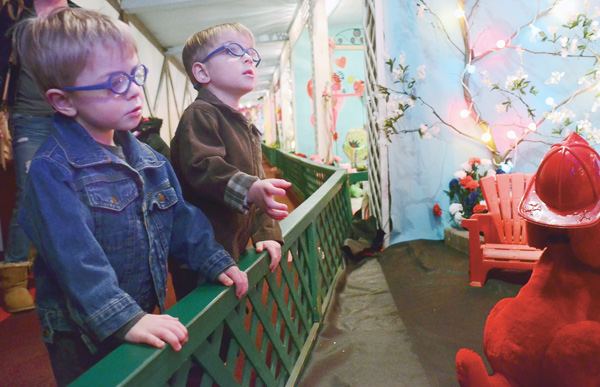 Photo
Three-year-old twins Aydon, left, and Braydon Hacker of Sharon take in the Easter Bunny Lane exhibit at Kraynak's , 2525 E. State St. in Hermitage. The display opened Thursday and continues until the Monday after Easter.
By Jeanne Starmack
Hermitage, PA.
At the start of Easter Bunny Lane at Kraynak's in Hermitage, Pa., 2-year-old Hailey Smith was absorbing the first display.
It was dedicated to bunnies and their love of carrots.
They were singing the praises of "carrot stew" under a tree bedecked with lighted carrots.
Pretty amazing stuff for a 2-year-old, but there was a lot more to see.
In the 11 scenes in the store's exhibit that opened Thursday as a tribute to the coming spring, are owls mingling with cats, bears working at beehives, bunnies watering gardens,
fairies and their unicorn, Sesame Street characters, Alice in Wonderland and monkeys, which Hailey was particularly interested in seeing.
Her father, Devon, told her there were some monkeys — they were hanging around in palm trees in the scene across the aisle, but Hailey already was thinking ahead.
"Do you have any crocodiles?" she said, an unusual answer to the question, "Are you having fun?" Especially coming from a 2-year-old.
Her father laughed, explaining that Hailey has learned a lot about animals from Living Treasures Animal Park near New Castle, Pa.
Her favorite animal there? "The giraffe," she said.
The stuffed characters at Kraynak's, 2525 E. State St., dial it down from the real ones at the animal park, but they are an impressive collection nonetheless.
"Every year, it's different," said Renny Heath, who is the display's design coordinator.
Designers start discussing it right after the store's Christmas scene display is up along the hallway at the back of the store.
Two designers begin to put together the backgrounds in December.
Plush animals are cut open and specially modified with motors for animation.
"It's quite an ordeal to animate, but it's worth it," Heath said.
The display, which opened Thursday morning, will stay up until the Monday after Easter.
Even though it changes every year, the last scene is always religious, said Heath, as an observance of what Easter is all about.
The store's owner, George Kraynak, makes sure of that — "he's hands-on with the planning," Heath said.
Thousands of kids go through the display each year, she said, and lines can be out the door.
Smith brought Hailey on Thursday to beat the crowd, he said, after they were driving by and he saw the sign that the display is now open.
There likely is an animal in the display for everyone.
In a jungle scene that included elephants, tigers, zebras and orangutans, there was not one giraffe for Hailey; there were two.
As for the Easter Crocodile? He was front and center.