Valley program helping troubled foster kids expands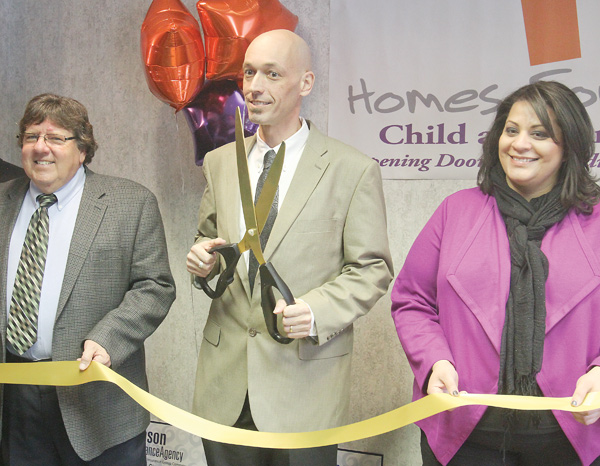 ---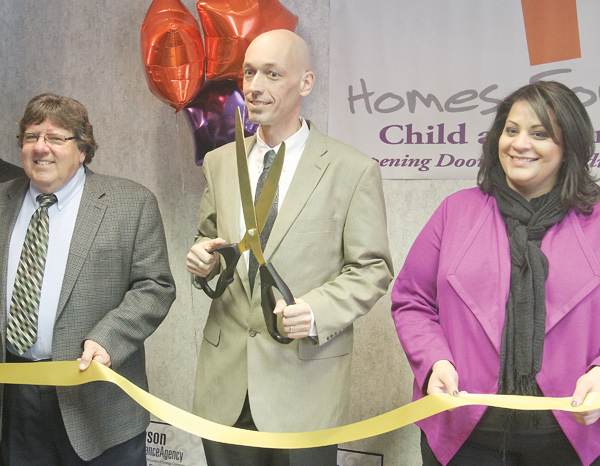 Photo
Matt Kresic, chief executive officer of Homes for Kids/Child and Family Solutions, based in Niles, holding scissors, is flanked by agency board members Tom Maley, left, and Tysa Egleton during the ribbon-cutting for the agency's new office on Market Street in Boardman.
NILES
Homes For Kids/Child and Family Solutions is celebrating its expansion into Mahoning County and the beginning of a new foster-care program designed to help chronic and violent juvenile offenders and their foster families.
The impetus for the agency opening an office at 4822 Market St., Suite 300 in Boardman is the growing number of referrals from Mahoning County agencies.
"We are extremely excited to formally expand our behavioral-health services with a base in Mahoning County," said Matt Kresic, chief executive officer.
"Last year we provided in-home and community-based behavioral-health services to over 300 youth and families who reside in Mahoning County. We hope that our presence in Mahoning County will fill a service gap," Kresic said.
Child and Family Solutions anticipates placing 14 therapy and case-management staff at the Boardman location, he said.
Headquarters for the fast-growing Homes for Kids/Child and Family Solutions is at 165 E. Park Ave. in Niles.
The agency strives to meet the needs of every child, family and individual referred to it, said Kresic.
Homes For Kids provides Treatment Foster Care services to some 50 children annually in Trumbull, Mahoning and Columbiana counties.
Treatment Foster Care programs provide, in a clinically effective and cost-effective way in a foster home, individualized and intensive treatment for children and adolescents who otherwise would be placed in institutional settings, according to the Foster Family-based Treatment Association.
Child and Family Solutions specializes in providing in-home therapy and case-management services to help families bounce back from emotional and behavioral issues associated with childhood and adolescence by utilizing skilled counselors, social workers, and clinicians, Kresic said.
That part of the agency served about 870 children and their families in the tri-county area in fiscal 2013 (July 1, 2012 to June 30, 2013) compared with 300 for the same period four years ago, Kresic said.
"We must be doing something right. The outcomes indicate the kids are getting better," he said.
Overall, the agency has 58 employees including 44 licensed social workers and counselors.
Its major funding sources are foster-care contracts for placement services; Medicaid, private insurance, Trumbull County Mental Health and Addiction Services, grants and fundraisers, Kresic said.
Along with the grand opening, Homes For Kids/Child and Family Solutions announced implementation of a new program, Multi-Systemic Therapy.
Multi-Systemic Therapy is an evidenced-based, intensive, family and community-based treatment program, targeted toward youths who are chronic and violent juvenile offenders. The program integrates a number of behavioral-health services with the goal of either preventing a youth's out-of-home placement or facilitating a successful transition back home, Kresic said.
Implementation of MST is a collaborative project, funded by a $200,000 grant over 18 months from the Ohio Department of Youth Services that includes Homes For Kids/Child and Family Solutions, The Mahoning County and Trumbull County Juvenile Courts, the Mahoning County Mental Health Board, the Trumbull County Mental Health and Recovery Board, and the Mahoning and Trumbull counties Family and Children First Councils.
In 2009, Homes for Kids/Child and Family Solutions established the Multidimensional Treatment Foster Care program in partnership with Mahoning County Children Services Agency, which Kresic called the "neatest thing in foster care, because it works."
"Kids may have been in the foster-care system a long time, but with MTFC the children-services agencies, which refer children to Homes for Kids for services, have better success in reuniting families and keeping children out of the system and eventually working and paying taxes," he said.
The standards are very strict.
For instance, Kresic said, the agency calls the foster homes daily to get behavior reports and does intervention on almost a daily basis.
"We have to maintain an 80 percent success rate of reuniting kids with their families, adoption or aging out of the system in order to maintain certification to operate the program," he said.
"It is an exciting time to bring these services to the community where they are needed. We look forward to implementing Multi-Systemic Therapy, along with other evidence-based mental-health programs, to the most vulnerable populations of children and families in Mahoning and Trumbull counties," Kresic said.