Struthers woman continues fight against Hodgkin's lymphoma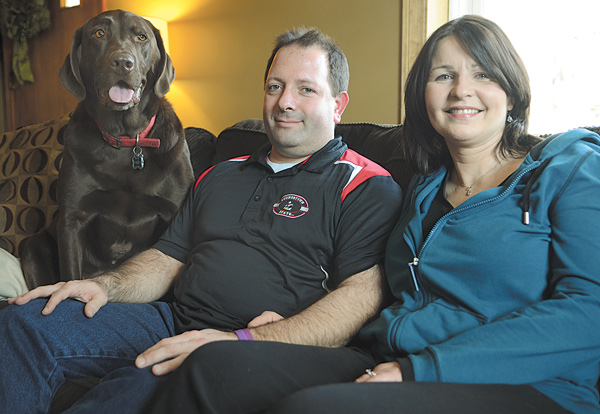 ---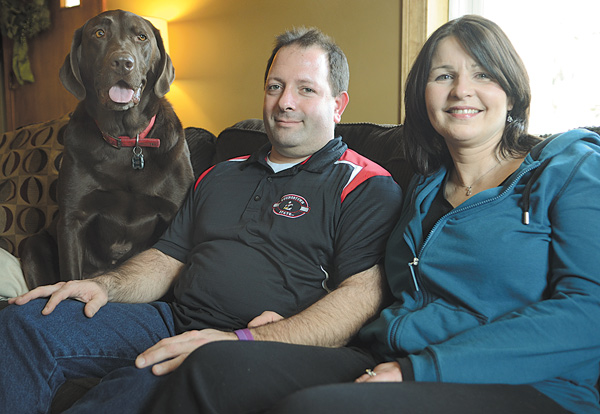 Photo
Missy Ginnetti, right, poses with husband Patrick Ginnetti and dog Max in their Struthers home. Missy has been fighting Hodgkin lymphoma on and off since being diagnosed in June 2010, and soon may undergo an allogeneic stem-cell transplant.
By EMMALEE C. TORISK
STRUTHERS
A prolonged battle against Hodgkin lymphoma has given Missy Ginnetti a rather businesslike approach to the entire ordeal.
"It's sort of like my job," the 41-year-old said. "It's like, 'I don't really want to do this, but I have to do this.'"
And what Missy has had to endure since her June 10, 2010, diagnosis of stage 3 Hodgkin lymphoma hasn't been easy.
First it was six months of chemotherapy in an attempt to rid her body of the lymphoma that initially had spread from her neck into her chest, under her armpits and down to her spleen.
Despite its progression, she'd had no symptoms, save for what she thought were swollen glands.
Then, when that didn't work as well as hoped, it was another, more intense, form of chemotherapy, followed by an autologous stem-cell transplant — during which Missy's own healthy stem cells were collected, then reintroduced into the body to replace her faulty ones.
But on Jan. 18, 2013, after a short remission, Missy — who long maintained that she had "the best immune system in the world," because she rarely got sick — learned the cancer had returned.
Without hesitation, Missy signed up for a clinical trial for a drug designed to target a specific protein found in Hodgkin cells, as opposed to chemotherapy, which indiscriminately kills both healthy and cancerous cells.
When that drug began to cause weakness, numbness and pain in her hands, however, Missy's doctors took her off it, not knowing how reversible the damage would be.
She later returned to the drug via lengthy infusions — at first over the course of eight hours, then over six — that didn't produce the same sort of reactions, including anaphylaxis that made her throat close and her body swell up "like a balloon."
Missy continued this until October, when she was scheduled for an allogeneic stem-cell transplant — in which the stem cells come from another person.
But a scan beforehand revealed the lymphoma was progressing, so she endured another round of chemotherapy.
Now, Missy is hopeful the dose of chemotherapy she had two weeks ago will be her last, and that she can soon restart the stem-cell transplant process for the procedure that could take place as soon as next month.
"I just had an attitude of, 'This is the problem, this is the solution, this is what we have to do to fix it, then we're going to be fine,'" Missy said. "It doesn't do any good to worry, and I try not to think about the bad."
Missy's husband of almost seven years, Mahoning County Engineer Patrick Ginnetti, said simply that he couldn't do it, and that his wife has handled these recent challenges much better than he ever could.
"She makes it easy," Patrick said. "She keeps a good, positive attitude, and doesn't let it get her down."
The Ginnettis explained they've dealt with the uncertainty by remaining busy and by staying occupied, and especially by trying to keep things as normal as possible for their three children: 20-year-old Alexa Morocco, 17-year-old Frank Percic, and 15-year-old Laiken Percic.
Through it all, Missy said she feels fortunate that, for the most part, her treatments haven't caused her to be physically sick, and that she's been able to still be a normal mother to her three children.
She even continued to work at the Ohio State Penitentiary for much of that time, leaving only at the end of September.
And she's also become an advocate for donor registration, as an unrelated donor will be supplying the stem cells for her upcoming transplant.
Missy said she'd eventually like to host annual or biennial donor drives for the Be the Match Registry, as family and friends did in May.
She added that the only requirements for potential donors are being between the ages of 18 and 44 and being in good health, along with having a willingness to donate to anyone in need.
For information, visit bethematch.org.