Penguins fall just short of Vikings in OT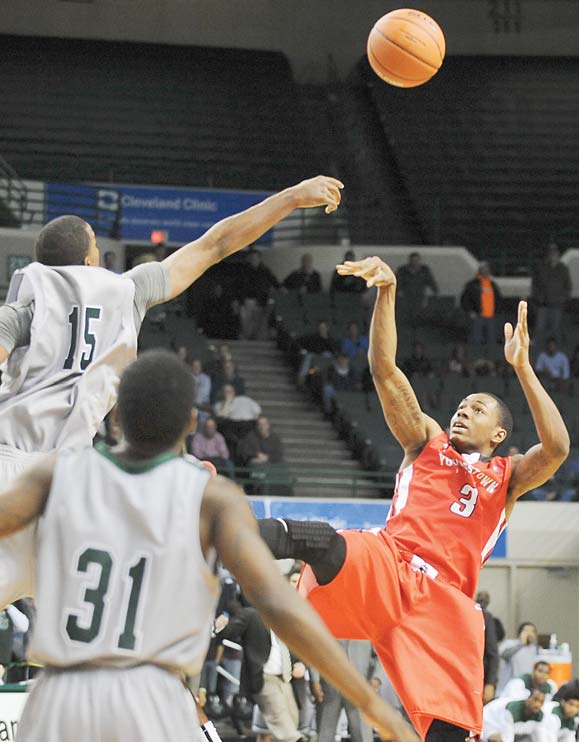 ---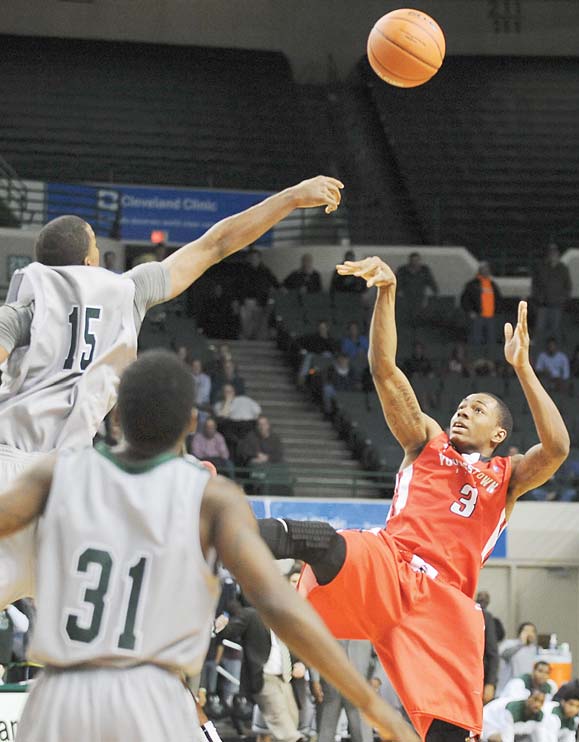 Photo
Cleveland State defender Anton Grady (15) blocks a potential game-winning shot by Youngstown State's Kendrick Perry as time expires during overtime of their Horizon League game Tuesday at the Wolstein Center in Cleveland. The Penguins fell, 70-69.
By Joe Scalzo
CLEVELAND
Cleveland State men's basketball coach Gary Waters said his team's theme for this week was to praise God "for all He does for us."
Apparently that includes last-second misses by Youngstown State.
The Penguins missed two point-blank shots under the basket at the end of regulation and Cleveland State's Anton Grady blocked Kendrick Perry's last-second fadeaway in overtime as the Vikings held on for a 70-69 victory on Thursday night at the Wolstein Center.
"He put a lid on the basket for them in a couple situations," Waters joked afterward. "I seen His hand push it out."
Perry tormented Cleveland State in the teams' first meeting, scoring 31 points in a 67-66 YSU victory on Jan. 13, and the Vikings built their defense around stopping him Thursday.
But Perry nearly rescued YSU in the final seconds of overtime, making two free throws with 5.3 seconds left to cut the deficit to one, then forcing a turnover with four seconds left off the CSU inbounds pass.
But with the 6-foot-8 Grady leaving his man to guard him on the perimeter, Perry opted to pull up for a fadeaway just inside the 3-point line rather than drive to the rim. Grady got a piece of it. Perry grabbed the rebound but his shot was off to the left.
"I tried to make the corner [to drive to the rim] but I didn't think I could get it," said Perry, who had 17 points, nine rebounds and six assists. "I tried to create space. You've got to give credit to Grady. He played good defense. We weren't able to come up with it."
Grady, who had 14 points and eight rebounds while battling flu symptoms, said the final play came down to "me versus the [Horizon League preseason] player of the year. You in my house, so it's on me to [not] let you come to my house and steal a victory."
The Penguins had a perfect chance to win at the end of regulation. With the game tied at 60 with 3.7 seconds left, CSU sent its defense at Perry, leaving Kamren Belin wide open for a 5-footer on the left baseline. It bounced out, as did Bobby Hain's putback at the buzzer.
"We missed a ton of point-blank shots," YSU coach Jerry Slocum said, "and we finished the game missing an easy one.
"I'm proud of how we played. I thought that our kids have played hard enough all year long to deserve a lot of these close wins."
Ryan Weber scored 17 points, Hain had 10 points and 17 rebounds and Belin had 16 points for YSU (15-15, 6-9), which shot just 37 percent from the field. Bryn Forbes scored 15 for CSU (20-10, 11-4), which wrapped up the Horizon League's second tournament seed.
YSU will host Oakland in Saturday's regular-season finale and still has a chance to host a first-round tournament game.
The Penguins had two close calls go against them in the final minutes, with DJ Cole getting hit with a block call near the basket with 90 seconds left and Hain getting called for a foul with nine seconds left near the 3-point line when CSU had just two seconds left on the shot clock.
Those two calls led to four Viking free throws, turning a 67-66 deficit into a 70-67 lead.
"That last foul on Bobby was kind of iffy and that block/charge call on DJ could have went both ways," Perry said. "But at the end of the day, we still had two decent looks at the end of regulation and [a chance] in overtime.
"We had our chances to win. You can't ask for anything more than that."