---
Wednesday, February 26, 2014
If You Go...
What: Vino In The City
Where: Christopher's Downtown, 100 Federal Plaza East
When: Friday, March 7, 5 p.m. and 6:30 p.m.
Reservations: Log on to myvalleyvino.com or call (330) 744-9580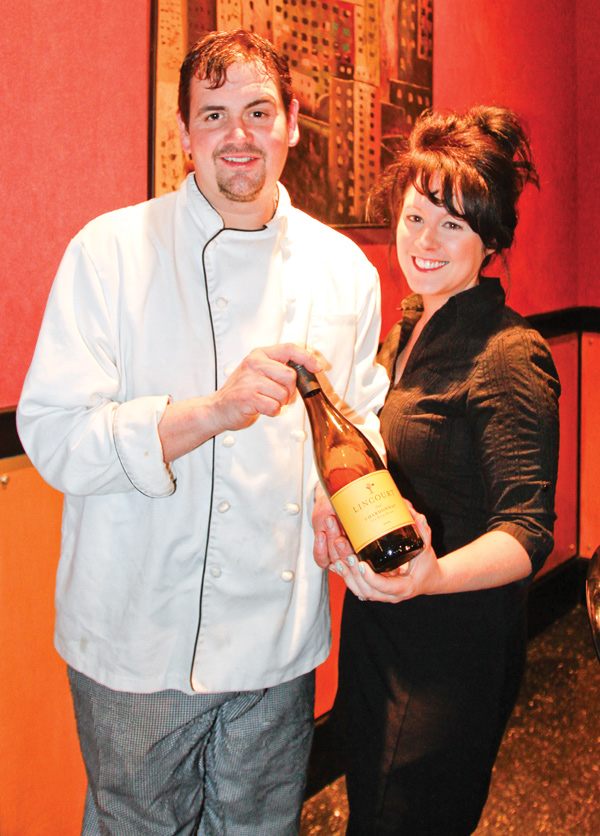 Photo
Christopher and Shawna Bonacci, owners of Christopher's Downtown, are gearing up for a series of wine tastings starting in early March.
By Brian Fry
There is no shortage of options for those wishing to enjoy some drinks and dinner in downtown Youngstown these days. In fact, keeping track of the openings and closings requires some serious attention.
One thing that has been missing since the closing of The Youngstown Club and Caf Cimmento is a restaurant offering regularly scheduled wine events for those who work, live and visit downtown. One new downtown spot is teaming up with local wine club Valley Vino in an attempt to change all that.
Christopher and Shawna Bonacci, the husband and wife team who own Christopher's Downtown, are gearing up for their first big wine event March 7. The new series of tastings called Vino in the City is distinctly designed to serve both the people who work and live downtown, and those who might want to drive in for a great night of wine and food. Shawna enjoys the after work crowd.
"We have a great core group of professionals who work in our building and the other offices around downtown. They enjoy coming in right after work to relax and see their friends and peers."
The commitment to wine is evident in the Christopher's logo with a city skyline appearing inside wine bottles. The Bonaccis understand the importance of the wine-food connection and look forward to sharing that experience.
Vino In The City will feature five specially selected wines from California, Washington and Oregon, and each wine is paired with a tapas dinner course. Christopher enjoys the artistry involved in pairing wine and food.
"We're really looking forward to the opportunity to get creative and go outside the box of our regular menu. The process of researching and tasting the wines and then creating the menu is fun and exciting to me."
The five featured wines will be poured in 3-ounce portions for each guest and are available for purchase at retail prices, allowing people to "try before they buy." Here's a look at the five wines featured on March 7:
2012 Chateau Ste. Michelle Columbia Sauvignon Blanc. Bright fruit up front with apple and melon on the palate, finishes clean and fresh.
2012 Wente Morning Fog Chardonnay. Enticingly aromatic with flavors of pear, green apple and tropical fruits mingling with cinnamon and vanilla, enhanced by subtle oak.
2011 Rainstorm Pinot Noir. Combines grapes grown in Oregon's Willamette and Umpqua valleys, this wine delivers exceptional balance and complexity at a great price.
2010 Concannon Conservency Crimson and Clover. An exceptional blend of 50% Petite Syrah, 25% Cabernet, 15% Syrah and 10% Zinfandel. Delivers deep berry flavors, delicate tannins and softness.
2011 Chateau St. Michelle "Indian Wells" Cabernet. A "new world" style of cabernet with jammy red cherry and blackberry with moderate spices and defined hints of vanilla on the finish.