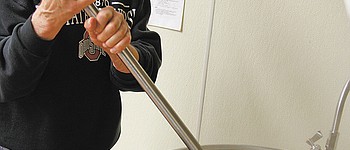 For 6 months a year, soup simmers at St. Dom's
Published: 2/26/14 @ 12:01
By LINDA M. LINONIS
linonis@vindy.com
YOUNGSTOWN
Soup simmers on Mondays at St. Dominic Church, where the aroma of the comfort food wafts through the kitchen of the parish center, 77 E. Lucius Ave.
Volunteers with the John Severn Soup Group arrive about 8:30 a.m. Mondays to chop vegetables, mix ingredients and cook the soup; some attend Mass beforehand. The 18 volunteer cooks rotate turns with eight or so helping out each week.
From October through April, they make about 25 gallons of soup every Monday that is served that week at St. Vincent de Paul dining hall, 208 W. Front St. That adds up to about 30 weeks of preparing about 750 gallons of soup overall.
"We pray before we make the soup," said coordinator Linda Babinec said, noting the prayer was to St. Martha, patron of cooks.
Babinec, a 65-year church member, said the idea for the soup group was suggested by the late John Severn, who died in 2009. His late wife, Marge, who died in 2013, also volunteered.
Skip Barone, manager of the St. Vincent de Paul dining hall, described Severn as a "wonderful volunteer" at the soup kitchen. Barone said he suggested the soup donation as once a month but Severn insisted on a weekly contribution.
"It does really help us," Barone said. "We add a sandwich, salad and crackers and we have a meal." The dining hall serves about 225 meals each weekday.
Barone noted chicken noodle is the favorite at the dining hall followed by tomato and rice. Other soups are chicken and rice vegetable; beef barley; bean, macaroni and ham; ham, barley and potato; and vegetable beef noodle. The soups are vegetable-based with flavoring added. This week's ham, barley and potato soup incorporated 4 pounds of onions, 5 pounds of celery, 6 pounds of carrots, 20 gallons of water, 3 jars of ham-base and 12 pounds of potatoes. Babinec said Severn got the recipes from his son, John.
Babinec said the group originally made soup in the old school kitchen. After the school was sold, the group used kitchen facilities at St. Patrick Church, 1420 Oak Hill Ave. The group applauded the Rev. Ed Noga, pastor, who offered them a kitchen to use along with storage. After St. Dominic parish center was completed in October 2013, the soup group returned to its home church. Babinec noted two anonymous donors bought a 30-gallon soup kettle and hood.
The monthly cost of making the soups ranges from $250 to $300. Donations by church members make it possible.
Marienne Burick, a church member for 17 years, said she remembers Severn saying it was ironic that the soup kitchen didn't make soup and the church should start doing it.
"We have a lot of fun doing this, but the serious part is helping people in need," Burick said.
Ellen and Mike Devine are members of St. Christine Church but their children attended St. Dominic School. They help with the soup group.
"We feel our family has been blessed so we want to give back to help the less fortunate," she said.
Carole and Jim Halloran also are among volunteers. Carole said volunteers share a faith-based motivation to help people.
"I also think it might help change lives when people realize someone cares," she said.
Margie Chiricosta, a member about 10 years, noted that "volunteering is priceless."
Babinec added that she and other volunteers "can't help but think what you have and what you put on the table." She continued that "it's part of our faith to help those in need."
Joe Scheetz, who often delivers the soup to the dining hall, provides the humor in the kichen.
"I'm the rose among the thorns," he joked. Babinec, who is his cousin, asked him to help.
Church members also volunteer twice a year for week-long service at St. Vincent de Paul dining hall.
Don't Miss a Story
Sign up for our newsletter to receive daily news directly in your inbox.