Inmates begin laborious task of patching roads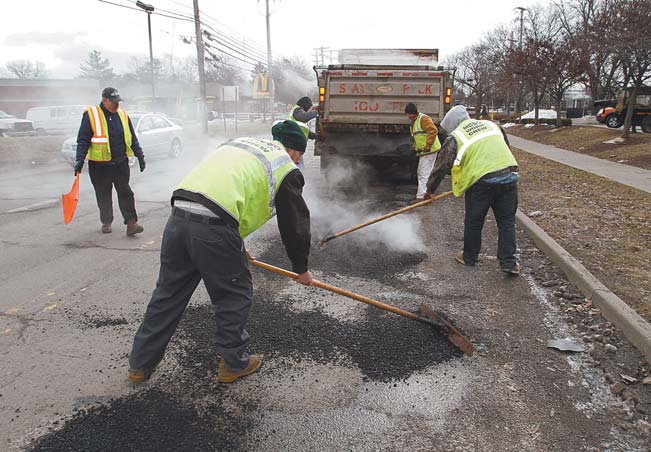 ---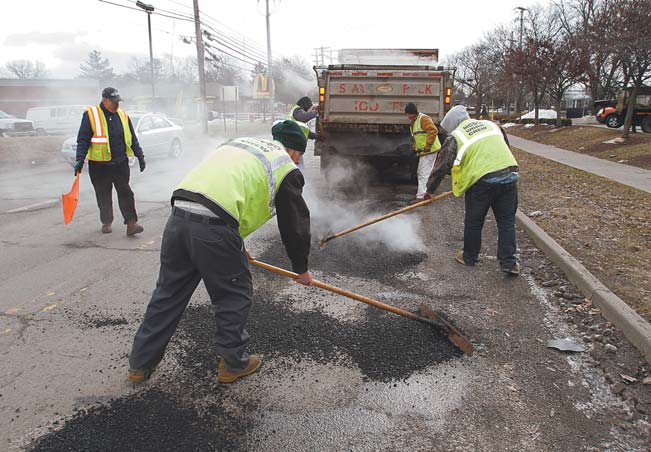 Photo
Frank Kordupel , with flag, of the Mahoning County Engineer's Office, supervises a group of minimum-security and day-reporting inmates from the county jail who fill potholes on South Avenue near Midlothian Boulevard. They were at work Monday. The county used four inmates from the day-reporting program to help fill potholes, which are in abundance because of the wave of freezing and thawing to hit the area.
By JOE GORMAN
jgorman@vindy.com
YOUNGSTOWN
Crews for the Mahoning County Engineer's Office will be getting some help filling the abundance of potholes on county roads, but the head of the union that represents workers there isn't pleased because he was never told about the arrangement.
Rich Sandberg, president of Teamsters Local 377, said he is thinking of filing a grievance over the use of a rotating crew of four day-reporting inmates from the county jail who were out Monday helping to fill potholes.
Sandberg said he is surprised because he never heard of the arrangement until reporters were calling him Monday to comment on the matter.
He said perhaps an arrangement could have been worked out if county Engineer Pat Ginnetti had come to him before and discussed the matter with him.
Ginnetti did not return several messages seeking a comment Monday.
"I was unaware of it," Sandberg said.
Sheriff Jerry Greene said Monday a rotating crew of no more than four inmates will be helping to fill the potholes until their help is no longer needed.
"I think it's a great idea," Greene said. "I think it's going to help save the county money."
Greene said the idea was the brainchild of Ginnetti, who thought of it a couple of weeks ago.
Greene said the inmates in the day-reporting program are often sentenced for nonviolent offenses by the county courts and report to the jail for the day and often are given work to do, such as clean up or removing snow or washing county vehicles.
"It's an excellent form of alternative sentencing," Greene said.
Greene said the day-reporting program allows for ways for nonviolent criminals to serve their sentence and help the county at the same time, while also allowing for bed space to be freed up at the jail for violent criminals.
This winter has been rough on area roads. Heavy snowfall and very low temperatures combined with thawing has created rough stretches of road all over the Mahoning Valley.
Sandberg said he was surprised Ginnetti did not come to him because he has a good relationship with the engineer.