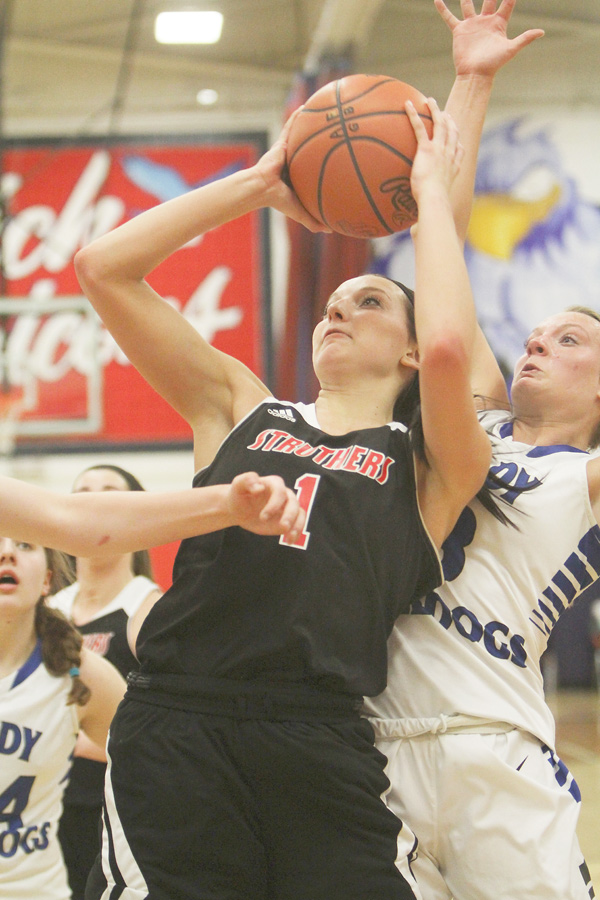 ---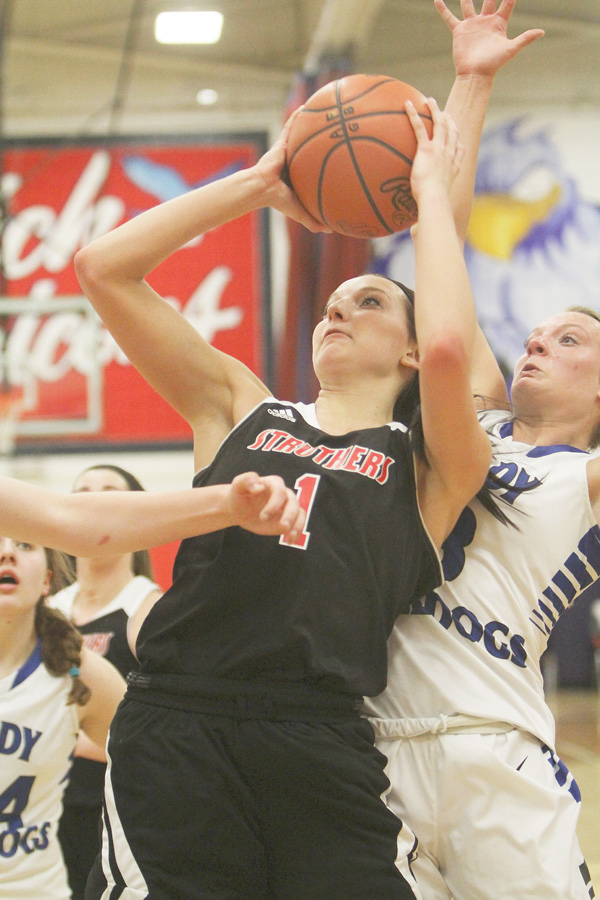 Photo
Ashleigh Ryan of Struthers puts in a layup against Lakeview defender Abby Pavlik during the second half of their Division II district semifinal on Monday at Fitch High School in Austintown. Ryan recorded a game-high 19 points with nine rebounds to help lead the Wildcats over the Bulldogs, 53-39. Struthers faces the winner of tonight's West Branch-Ravenna contest in the district title game Friday.
By Steve WIJAJ
sports@vindy.com
AUSTINTOWN
Head coach John Grandy is a pro at deflecting criticism off his Struthers High girls basketball team and holding himself accountable.
Case in point, after the Wildcats fell behind by 13 midway through the first quarter on Monday and trailed Lakeview by eight after one quarter, Grandy's Wildcats delivered a message.
"They told me that I coached the first quarter, then they just took over after that," Grandy said. "That's something they tell me a lot."
All jokes aside, Struthers dominated the top-seeded Bulldogs for the final three quarters. Struthers outscored Lakeview by 19 in the
53-39 victory in the Division II district semifinal at Fitch.
"We called a timeout and got in the huddle and we said 'It's 0-0,'" Struthers forward Ashleigh Ryan said about falling behind 14-1. "That's how we had to play.
"And I feel like being down gave us that extra push that we needed," Ryan said. "We came out of the huddle and didn't want them to score another point."
The Wildcats (19-5) cut the deficit to 26-24 at the half and then built a 40-34 lead heading into the fourth quarter.
"Struthers played hard for 32 minutes and we didn't," Bulldogs coach Adam Lewis said. "They did a lot of good things and we didn't do a lot of little things.
"It seemed to steamroll and add up."
The Wildcats opened a large fourth-quarter advantage when they didn't allow Lakeview (22-3) to score a point until Abby Pavlik made a layup with 1:44 remaining.
The Wildcats were paced by Ryan's game-high 19 points and nine rebounds while McKenna Shives scored 16. Brittany Zupko made 12 rebounds.
Lakeview, which finished with 18 turnovers, didn't get the same production from its supporting cast. Alli Pavlik led the way with 18 points; no other Bulldog reached double-figures.
"We just couldn't seem to get into any type of offensive flow," Lewis said. "They really got after us and we couldn't find ways to get the ball in the hoop."
Grandy said the key to the turnaround "was just calming down. We were like people running and yelling for help — people were crying, dogs were barking — I don't know what the heck was going on.
"But we finally just settled down and played ball."
The X-factor for Struthers was sophomore Caitlin Kane, who scored 12 points off the bench.
"She deserves the MVP of this game," Ryan said. "We told her all season that we know that she could do this and she came out and played the game of her life tonight."
Lewis said the Bulldogs are disappointed.
"It was still a great season," Lewis said. "It's been a really special group. Obviously we're disappointed, we had much higher aspirations, but that's what the tournament is about."
Struthers next will face tonight's winner of the West Branch/Ravenna semifinal.