The English Center relocates to Youngstown synagogue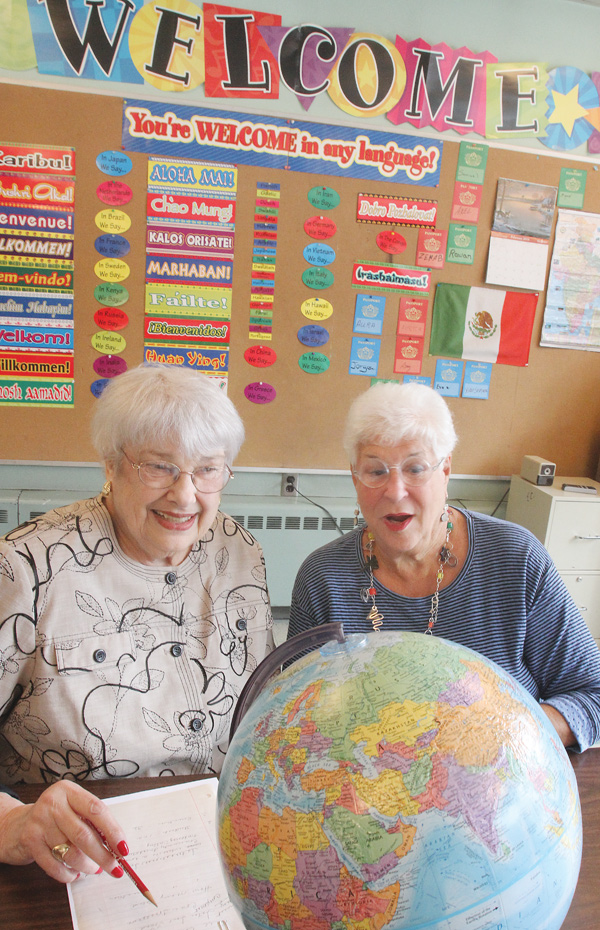 ---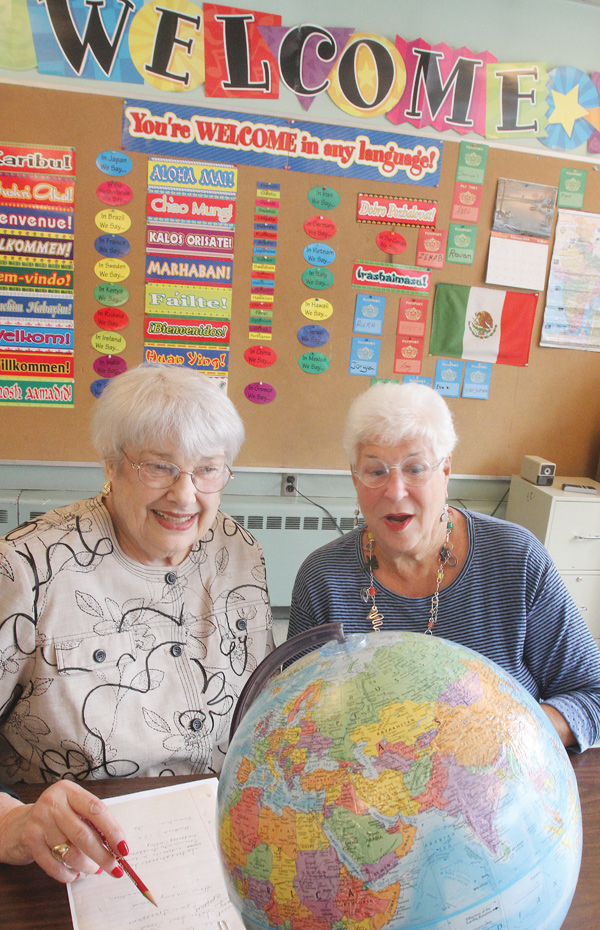 Photo
Leslie Kiske, left, and Bobbi Grinstein sit in one of the classrooms at The English Center. They founded the center when The International Institute in Youngstown closed in 1986. The center currently has 102 students from 32 countries.
By LINDA M. LINONIS
YOUNGSTOWN
Just like the immigrant population it serves, The English Center has faced relocation.
Its new site is at Congregation Rodef Sholom, 1119 Elm St.
"It was a fluke how we ended up here," said Bobbi Grinstein, a member of the congregation and co-founder of The English Center with Leslie Kiske.
Grinstein wasn't aware classrooms on the lower level of the synagogue were available until she made some phone calls. The center has its own entrance from the synagogue parking lot.
"They needed a place, and we had the room," said Rabbi Franklin Muller.
"We looked at many sites," Kiske said of the search. "We wanted the right ambience where students can meet and greet one another."
Grinstein and Kiske said the synagogue classrooms provided good space and a convenient location.
The center originally was part of The International Institute on Wick Avenue that closed in 1986. Then The English Center was founded. Volunteers Gloria and Roger Jones offered space at no charge in their company, Fireline Inc. "Our enrollment doubled," Kiske said.
The center also was housed at St. Stephen of Hungary and St. Anthony schools. From 2008 to 2013, it enjoyed a workable and friendly space at John Knox Presbyterian Church, 1806 Market St., which has closed.
The center currently has 102 students representing 32 countries, Kiske said. The 501(c)3, nonprofit organization is a site for Youngstown city schools' ABLE, Adult Basic and Literacy Education.
Its services are free; most funding is derived from the International Institute Fund and Community Foundation of the Mahoning Valley.
The English Center teaches English to speakers of other languages. Sessions are from 9:30 a.m. to 12:30 p.m. Mondays, Wednesdays and Fridays from September to June. For information, call 330-743-5767.
"It's total immersion in English," Kiske said about the students' experience. In classes, only English is spoken; during breaks, students may speak in their native languages though many continue to practice their English with one another.
Kiske said there are seven levels of learning; students take a verbal test for placement. Kiske teaches sixth level; Grinstein, second level. As their studies progress, written tests are given from the fourth level and above. Gretchen Bradley is coordinator and gives placement tests.
A teacher in the seventh level, Rosemarie Kascher is a retired music educator from Austintown School District who also taught at Youngstown State University. Reading, listening, grammar, speaking, pronunciation and writing are all components of the curriculum, she said.
"Ninety-five percent of our students come in with minimal knowledge of the English alphabet," Kiske said. Learning the English alphabet is probably most challenging to students from Arab and Asian countries because their alphabets are so different.
Some students at The English Center have advanced degrees from universities in their homelands. They need to learn English to live and work in the United States.
Grinstein and Kiske said using English is the key to learning it.
Carole Klingler is the director and a third-level teacher. Currently, her students are learning tenses — past, present and future. "Repetition is the key," she said.
The English Center also takes students on field trips to learn about the Valley and hosts social activities. A nine-week citizenship class will start March 18; call the center to register.
"Students find out about the center by word of mouth, at churches, through family and friends," Kiske said.
Adelina Rodriguez came from Mexico in 1991 after marrying her husband, who worked in the Valley. "A friend told me about it," she said of the center. "I've made friends here and learned the culture."
Rodriguez said she wanted to set an example of the value of education for her son, now a YSU student. "He would see me studying," she said.