Kasich vow to continue cutting state income-tax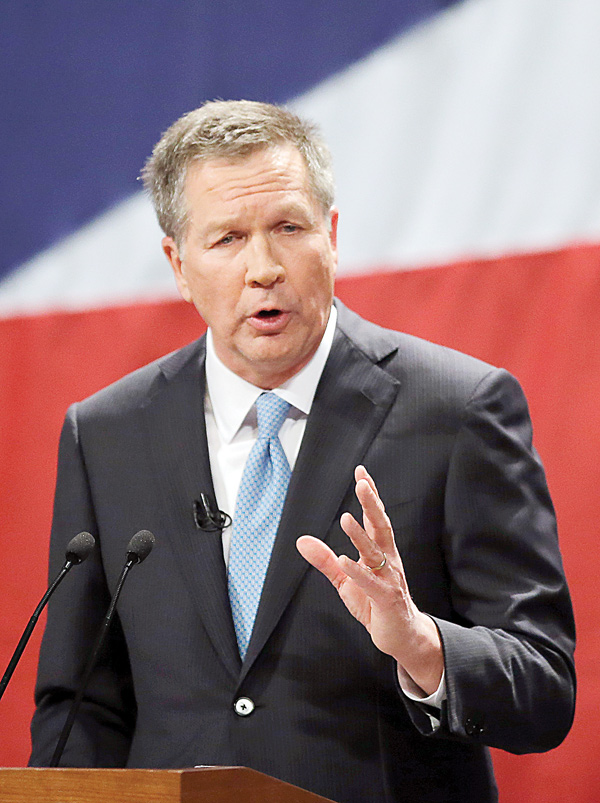 ---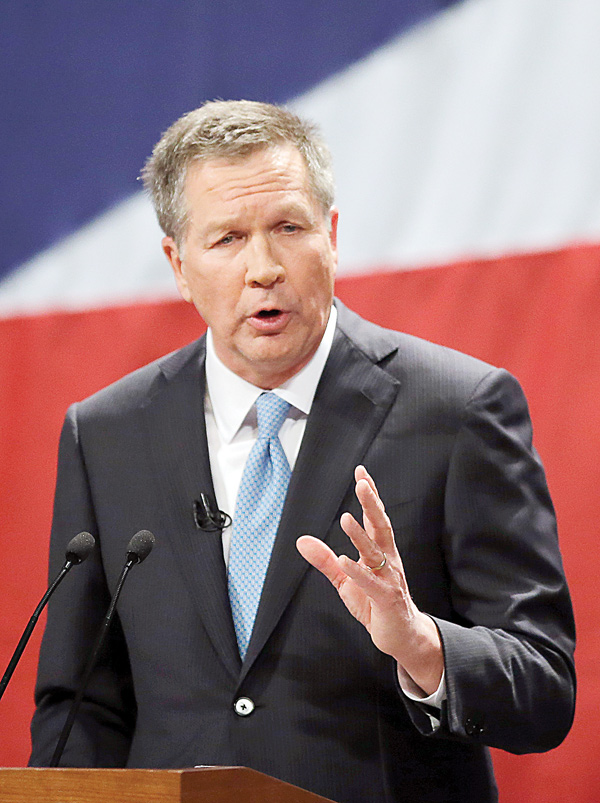 Photo
Gov. John Kasich delivers his State of the State address Monday at the Performing Arts Center in Medina.
By Marc Kovac
MEDINA
Gov. John Kasich vowed to further cut income-tax rates, create job-training and career-development opportunities to youngsters at risk of dropping out of school and offer college credits for veterans for training they received during their service.
A few Mahoning Valley Democrats, however, strongly criticized the governor's vision for Ohio's future.
State Rep. Robert Hagan of Youngstown, D-58th, called the governor's program proposals "Houdini politics."
"You can't continuously say you're cutting taxes and offering programs. It doesn't work," Hagan said.
Rep. Ronald Gerberry of Austintown, D-59th, said, "I'm disappointed. We have schools that are putting ballot issue after ballot issue after ballot issue [before voters]. We have counties that are saying, 'Help us.' We have townships going broke. And what are we doing? Are we addressing in any way ... local governments? No. Are we addressing school funding? No. We're going to now fund seventh-grade vocational education. We're not funding career education now."
Sen. Joe Schiavoni of Boardman, D-33rd, the Senate's minority leader, said the governor's "actions don't match the words that he spoke tonight."
In his fourth State of the State address, before an audience of lawmakers and invited guests here, the governor offered a message of hope for better things to come.
"The clouds are beginning to move apart," Kasich said near the start of his hour-plus speech. "The sun is beginning to break through and to shine its bright light on that summit. ... We are not hopeless. We are not wandering. We have direction."
He added later, "I hope you'll stay with me on the path as we go higher. … The state of the state is stronger, more hopeful, more optimistic, more exciting and more confident here in the state of Ohio."
Monday's night's address marked the third time Kasich took his annual address to a joint session of the state Legislature on the road.
He picked Medina this year, the hometown of Republican Speaker Bill Batchelder, who will cap more than four decades of service when his final term ends this year.
Kasich also presented "Courage Awards," to Amanda Berry, Gina DeJesus and Michelle Knight, three Cleveland women who were kidnapped and held captive for a decade before their rescue last year.
State of the State
Kasich offered a familiar narrative of the state's progress under his administration — going from an $8 billion hole in the budget, 350,000-some lost private sector jobs and 89 cents in the rainy-day fund to $1.5 billion in the rainy-day fund, 170,000-plus new private-sector jobs, tax cuts and business-friendly policies.
The governor touted billions of dollars in funding for road, bridge and infrastructure projects, his expansion of Medicaid eligibility to provide health care to more needy residents and increased efforts to crack down on human trafficking.
Kasich also praised JobsOhio, the private nonprofit that is heading the state's economic development efforts and the focus of criticism for its behind-closed-doors workings.
The governor voiced a continuing commitment to keep the state's "fiscal house in order," and to cut Ohio's tax rates to less than 5 percent, the latter accomplished through an increase in taxes on oil and gas produced via horizontal hydraulic fracturing.
Additionally, the governor urged lawmakers to sign off on a program that will provide free college credits for veterans to account for training they received during their years in the service.
Earlier Monday, some other Democratic legislators from the Valley, weighed in on what they wanted to hear from Kasich about how he will improve the state's economy.
Ohio's unemployment rate is on the rise and higher than the national average, said state Rep. Nick Barborak of Lisbon, D-5th.
In 2013, the state's unemployment rate increased from 6.7 percent to 7.2 percent. The national rate is 6.6 percent.
State Rep. Tom Letson of Warren, D-64th, said Kasich has promised a business-friendly atmosphere, but the tax bill approved by the Republican-controlled Legislature and signed into law by Kasich — which included a 0.25 percent state sales tax increase and expansion — is devastating families.
Contributor: David Skolnick, staff writer