Boardman police department delivered dog houses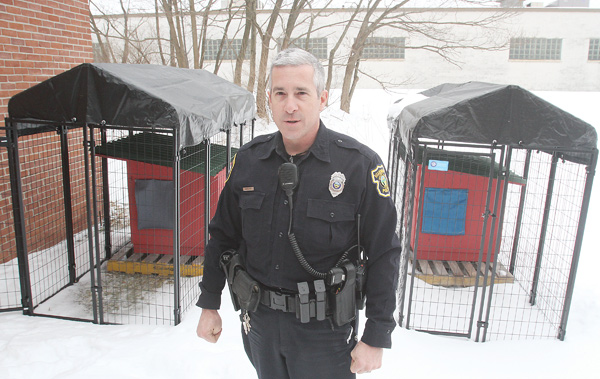 ---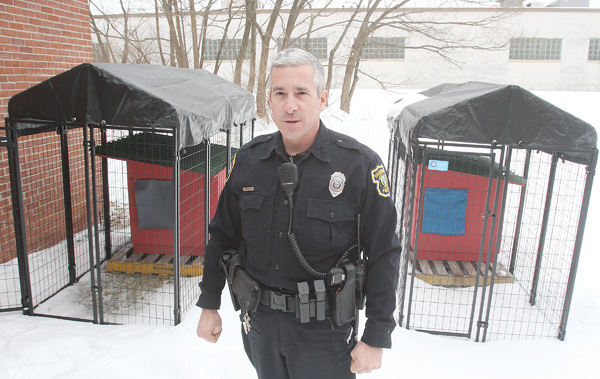 Photo
Boardman Police Department officer Jack Neapolitan stands near two new kennels the department will use to temporarily house dogs with no place to go.
By Kalea Hall
Boardman
Boardman police officer Jack Neapolitan has taken in many dogs for safekeeping on the job.
But now the police department has a place of refuge in some instances where dogs have no place to go.
"First off, this is not a drop- off for dogs," said Jack Nichols, Boardman police chief. "The reason we got these kennels is there are times we end up with a dog in our possession."
Some of the instances include after a car accident when a dog in the car has nowhere to go, or if officers find a dog after hours for the humane society or dog warden to pick up.
This program was able to be brought to the Boardman Police Department because of the Northeast Ohio Correctional Center, and Special Investigator James Conroy's idea to have inmates construct dog houses through a carpentry class. The dog houses would then go to area agencies and police stations.
The NEOCC Backyard Doghouse Project was launched in June 2013 after Conroy introduced the idea to the warden. The goal of the project is to help humane agencies in Columbiana and Mahoning counties with shelter for dogs.
Eventually this program expanded to local law-enforcement agencies such as Boardman. Other agencies are under consideration.
The houses were donated to the police along with straw, dog collar and lightweight tie-out.
Nichols chose Neapolitan to head the project at the department, and the animal-lover and former police-dog handler agreed.
"I was ecstatic," Neapolitan said.
In addition to the dog houses, Neapolitan had Boy Scout Troop 60 from Westminster Presbyterian Church help build two kennels to go outside the dog houses.
"My thought is kennels are a safe way to go," Neapolitan said.
Neapolitan, who said the best job in law enforcement is to be a police-dog handler, painted the dog houses.
Neapolitan was a police- dog handler for Boardman when the department had the German shepherd, Rookie. Tragically, Rookie was hit by a vehicle and died. Neapolitan still has his own search-and-rescue German shepherd named Maximus.
"The bond you make with a police dog is far and away different from the relationship you have with a pet," he said.