Some oil and gas companies have pursued regulatory orders that would bypass unit size provisions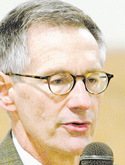 Photo
YOUNGSTOWN
With the rise of horizontal shale drilling, some oil and gas companies have pursued regulatory orders that bypass conventional limits on the size of drilling fields.
The amount of acreage, or so-called unit-size provisions, often were built into older lease agreements between land owners and drilling companies.
Before shale drilling emerged as a widespread practice in this state, most Ohio leases limited unit sizes for drilling activities to 160 acres or fewer. That's because those agreements were negotiated when conventional drilling practices required a well to be drilled only straight down into the earth.
But fracking requires a well to also extend laterally deep below ground, thus requiring more acreage to access natural gas in the underlying shale formations.
Anticipating the needs of horizontal drilling, landowners and drillers in Ohio began negotiating newer leases that contain unit-size provisions of 640 acres or more in 2010.
Traditionally, horizontal drilling companies, when taking assignment of previously negotiated leases, have either negotiated new lease amendments for larger unit sizes or drilled wells that conform with the built-in unit limits, said Alan Wenger, an oil and gas attorney with Harrington, Hoppe & Mitchell in Youngstown.
But in the last year or so, Wenger said, some companies have tried to avoid renegotiating leases by including lessors with unit size limits in applications to the Ohio Department of Natural Resources.
Largely unused until 2011, unitization allows drillers to pool nonconsenting landowners with a larger unit of willing lessors, as long as the driller has rights to 65 percent of the land. ODNR unitization guidelines also mandate that companies must provide an affidavit giving a detailed account of the attempts they made to lease unleased property.
Under Ohio law, those requests must be approved by the chief of ODNR oil and gas division.
In the past couple of years, Wenger said unitization applications have become "routine," though companies generally do not pursue the requests unless they have rights to 90 percent of the land.
The problem, he said, is that some drillers have recently tried to conform lessors with smaller unit provisions to the larger unit sizes stated in a few unitization requests, effectively trying to get ODNR to change the size of the units without adjusting the royalty interests of the lessor.
ODNR said it hasn't yet considered any such requests.
But Wenger said he has been involved in three cases where companies put the request before ODNR.
In one case, the parties negotiated a settlement. In another, the company backed out just before ODNR was set to review the request, perhaps fearing a precedent, he said.
Mark Bruce, an ODNR spokesman, said that any ruling by the oil and gas chief would not necessarily constitute a precedent.
"It truly is a case-by-case basis," he said. "If an order is issued, it is based solely on that case."
Because unitization cases involving altered unit sizes have not made it to a hearing, ODNR has not heard testimony from landowners, and it is unclear how unit sizes would affect a unitization order.
"Since we haven't had a hearing, we never had a chance to hear the [lessors'] side," Bruce said.
Objecting lessors would be able to submit written or spoken testimony as evidence at a hearing.
"We'll have to take that into account," Bruce said.
The current law, section 1509.28 of the Ohio Revised Code, does not address compensation to a lessor for the taking of lease rights, Wenger said.
Compensation could come in the form of money or providing a lessor with a greater proportion of royalties from production.
Lessors on older leases typically received 12.5 percent royalties on net value of resources produced from the leased land, minus post-production costs deducted by the company. But during the land rush in 2010, some companies negotiated leases that gave lessors up to 20 percent of the gross value in hot spots such as Harrison, Belmont and Noble counties, Wenger said.
Of course, landowners negotiating older leases will not necessarily get the same deal as newer lessors, but "they are entitled to some compensation, at least, before expanding the unit size," he said.
Until the oil and gas division chief makes an order, Wenger said it is unclear whether companies can actually override previously negotiated unit sizes.
Still, Wenger believes ODNR does not have the authority to grant a change in unit size.
"The law is fairly clear," he said. "But that doesn't mean that very creative, smart, highly paid lawyers are not going to try to get around it."
In a blog post dedicated to the issue, Wenger wrote last month that unless a lessor speaks up, "an order might be entered without the ODNR even knowing of the conflicting unit size limits in underlying leases," and he urged landowners to object if a driller's unitization application seeks larger unit sizes than contained in their existing leases.