YSU women grab share of first place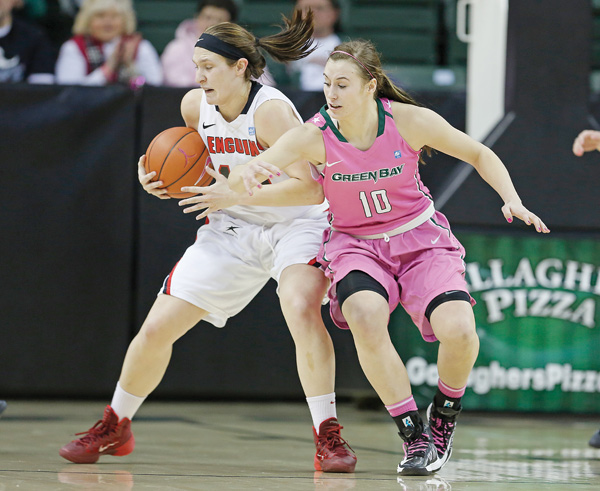 ---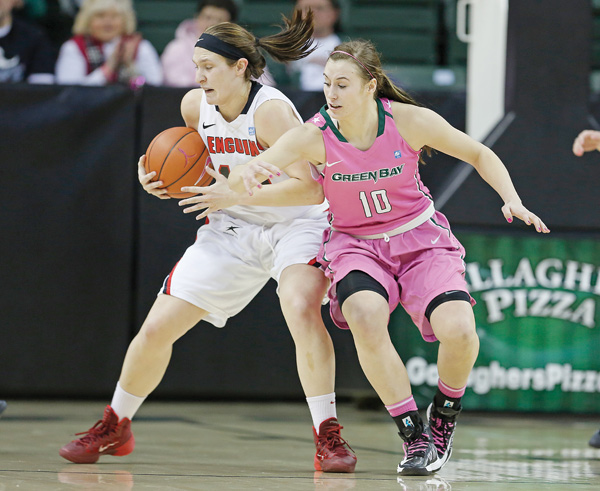 Photo
Youngstown State junior Heidi Schlegel keeps the ball away from Green Bay defender Mehryn Kraker during Sunday's Horizon League game at the Kress Center. Schlegel had a game-high 23 points, including the 1,000th of her career, as YSU won 72-63.
Staff report
GREEN BAY, WIS.
There may have been times this season when the Youngstown State women's basketball team played better than it did in Sunday's 72-63 win at Green Bay.
But according to Penguins coach John Barnes, it's never played harder.
"We had to leave everything on the court, every ounce of energy," Barnes said, speaking by phone following the game. "I think we played our hardest basketball this weekend."
Junior Heidi Schlegel scored a game-high 23 points, including the 1,000th of her career, and the Youngstown State women's basketball team created a logjam atop the Horizon League standings with a 72-63 win at Green Bay on Sunday at the Kress Events Center.
YSU (13-12 overall), Green Bay and Wright State are all tied for first place with a 9-3 record, and Wright State plays both teams in the final two weeks of the regular season.
Youngstown State won for the first time ever at the Kress Events Center and swept Green Bay for the first time in school history.
Freshman guard Jenna Hirsch scored 16 points, and Liz Hornberger scored 11 of her 14 points in the second half. The senior hit back-to-back 3-pointers to start the second half as YSU started the period on a 9-0 run. The Penguins did not trail for the final 19:02, and it led for the final 13:51.
YSU has won three straight games following a three-game losing streak from Feb. 1-8.
"We had a long [six-game] winning streak before the losing streak and I think we forgot about what got us the winning streak," Barnes said. "We're not talented enough to just show up and win games. I'm not saying anything the team doesn't know, but we're not necessarily more talented than anybody [in the Horizon League]. We're probably on the lower ends in terms of talent.
"But in terms of being able to work harder than everyone, we have control over that. When there's a loose ball, we have to dive on that. In order to win, we have to flat-out work extremely hard."
Kaili Lukan and Sam Terry had 13 points apiece to lead four Phoenix players in double figures. Green Bay (16-8) has won or shared the last 15 Horizon League titles.
YSU plays three of its final four games at home, including Thursday night's game against UIC at Beeghly Center. After a road game Saturday at Detroit, the Penguins will finish up at home against Wright State on March 5 and Cleveland State (13-12, 8-4) on March 8.
"We have four tough games ahead of us," said Barnes, whose team was coming off a road win against Milwaukee on Friday. "We're excited to be able to get two road wins against two good teams, but the whole team and the staff all know we have work left to do."