Two speakers featured at Austintown Rotary meeting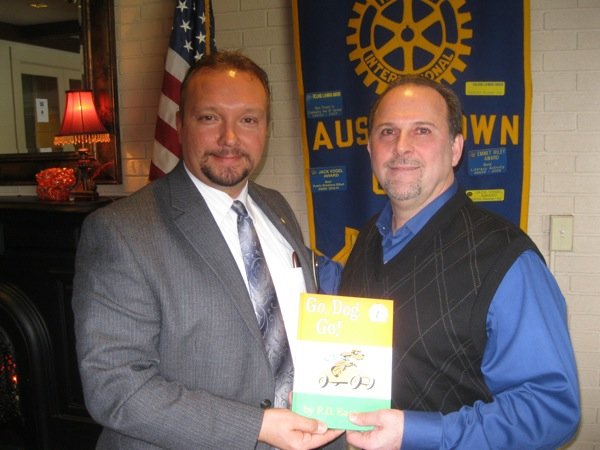 ---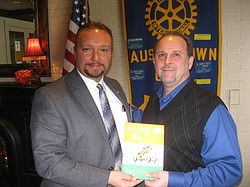 Photo
Neighbord | Submitted.Austintown Rotary Club president President Mark Cole (left) presented a book for Austintown Elementary library to David Ditzler, speaker of the day at the Feb. 3 meeting..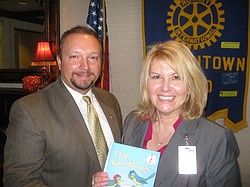 Photo
Neighbors | Submitted .Austintown Rotary Club president Mark Cole (left) presented a book for Austintown Elementary library to Susan Morrison, Director of Windsor Home Health.
Susan Morrison, Director of Home Health by Windsor, was featured as speaker at the Feb. 3 meeting of the Rotary Club of Austintown. She focused on the value of preserving "quality of life" for seniors and those involved in medical situations forcing them to be home bound.
Morrison's organization, once prescribed by a doctor, can provide the services needed to maintain the patient in their own home, whether it be an hour a day or several visits a week, and then provide a 24 hour phone line to the nurse with medical questions answered immediately. Currently they are serving 65 clients in both Trumbull and Mahoning counties, and can provide emergency service in case of power outages or weather disasters.
David Ditzler, Mahoning County Commissioner, was guest speaker at the Jan. 27 meeting. Ditzler spoke to the group, primarily about how county funds are raised and allocated. He presented Rotary members with an informative handout titled "General Fund and Sales Tax Overview - A look into how the General Fund sustains county government." Among his main points was how the county government is funded through sales tax and, of the seven percent sales tax, only one percent comes back to the county. From 2008-14, county tax revenue has fallen from nearly $60 million to near $50 million and 77 percent of sales tax revenues go to funding the justice system.
Commissioner Ditzler stressed that local taxes are the ones that make the biggest difference. Mahoning County will have a 1/2 percent sales tax renewal on upcoming election ballots, and possibly a 1/4 percent additional request.
Ditzler pointed out that 61 of 88 Ohio counties have a higher sales tax rate than Mahoning County.