Snowmelt, rain raise flood risk throughout Valley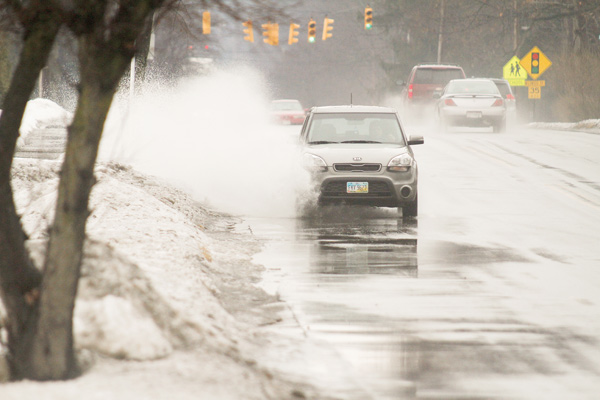 ---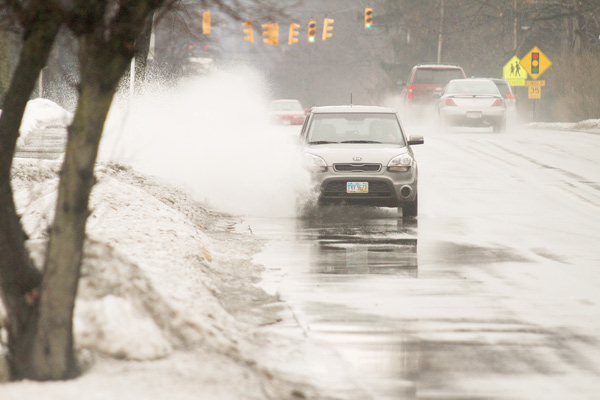 Photo
Snowmelt is raising concerns about flooding. Streets such as Glenwood Avenue in Boardman are inundated.
Staff report
YOUNGSTOWN
You are waking up to a flood watch, in effect through this morning.
There hadn't been enough snowmelt as of Thursday night to cause widespread problems with flooding, but the higher temperatures and rain overnight raised the risk of flooding and ice jams on the Mahoning River.
Sarah Jamison, a hydrologist with the National Weather Service in Cleveland, said temperatures above freezing in the next several days will mean a lot of snowmelt into the river at once, and that will increase the threat of ice jams as soon as today.
The ice is an inch thick in places, but the runoff will be enough to break it, she said.
If the river goes over its banks, the ice could destroy trees, property and infrastructure, she said.
"We can't predict where the jams are going to be," she said. "It makes our river forecast very challenging."
Overnight, thunderstorms were forecast to produce strong winds, and the chance of rain was near 100 percent.
Today, there's a chance of rain showers in the morning, then partly cloudy in the afternoon, according to the NWS. Saturday will be partly sunny with a chance of rain showers. It's back to a 30 percent chance of snow Sunday.
The latest NWS river-crest forecast calls for the gauge at Youngstown to crest at 14.5 feet this afternoon. At 10 feet, minor flooding occurs in lowlands near Youngstown.
At Leavittsburg, the river is forecast to crest at 11.6 feet this afternoon. That can cause lowland flooding near the town.
In Girard, there hasn't been any problem with flooded streets, and there have been no problems reported at the water treatment plant, said Mayor Jim Melfi. The river is a big concern, he said, particularly in the area called the flats south of the city's viaduct.
In Hubbard, there are no reports of problems, said city services director Dan Livingston. Street workers removed ice from the top of catch basins in some areas, which allowed water to drain off streets, he said.
Liberty Township has some problem areas, but so far there are no reports of problems, said township Administrator Pat Ungaro.