One Hot Cookie opens at Austintown library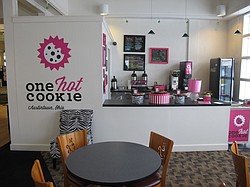 Photo
Neighbors | Tim Cleveland.The One Hot Cookie location in the Austintown Library has been open since Feb. 3.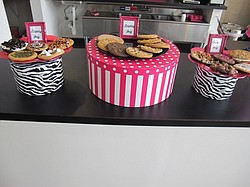 Photo
Neighbors | Tim Cleveland.Some of One Hot Cookie's goodies are on display at the location in the Austintown Library.
After the success it has received in its Youngstown location, One Hot Cookie hopes to duplicate that success in another store.
The specialty bakery opened a location in the Austintown library, located at 600 S. Raccoon Road, on Feb. 3. The bakery is occupying the cafe space in the atrium entrance of the library, a space which has not had a vendor in several years.
One Hot Cookie's owner, Bergen Giordani, said the opening of the Austintown store won't effect the Youngstown location at all.
"The partnership with the library is very exciting and looks to be a great fit with the Austintown market," Giordani said. "We're pleased to be able to expand within the Mahoning Valley and I think that is a testament to the support we've received since we opened in spring of 2013 in Erie Terminal Place in downtown Youngstown. I'd like to note that this is a second store and things will be business as usual in Youngstown. Austintown will be shiny and new, and Youngstown will remain our flagship location. We have big plans we'll be rolling out in March for Youngstown."
The hours of operation will be Monday through Thursday from 10 a.m. until 8 p.m., Friday and Saturday from 10 a.m. until 5 p.m., and Sunday from 1-4 p.m.
"We're very excited to partner with One Hot Cookie, a specialty bakery which is sure to be a draw to library customers, current and new, said library executive director Heidi Daniel. "When the cafe space was built in the Austintown Library, it was intended to be a caf and it hasn't had a vendor in it for several years. We are happy to be able to again use the space as it was intended. And we're especially happy to be bringing in One Hot Cookie; we feel there's a lot of potential in the library's partnership with this unique business."
Bergen lives in Canfield with her daughter, Morgen, who can often be found behind the counter at One Hot Cookie.