Candidate Lepore-Hagan gets a little help from Hollywood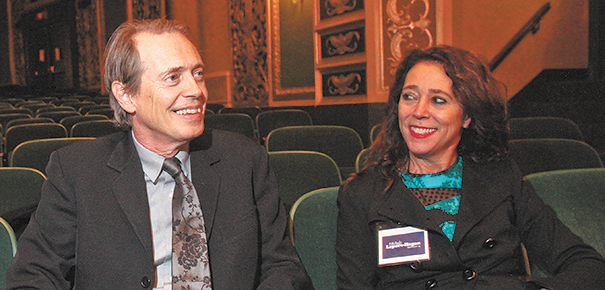 ---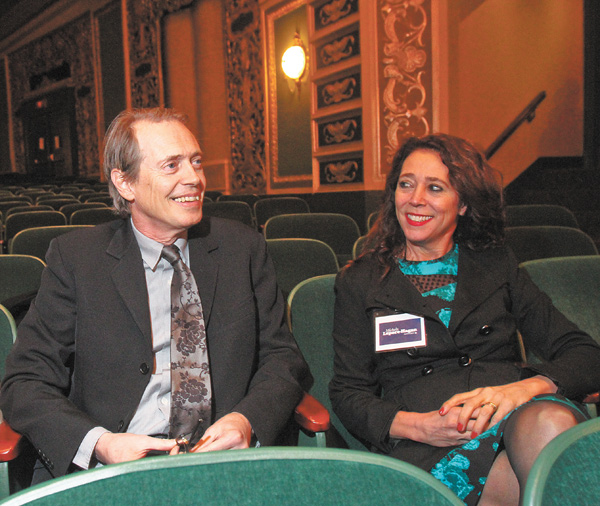 Photo
Actor Steve Buscemi headlined a political fundraiser for Michele Lepore-Hagan, who is running for the 58th Ohio House District seat. Buscemi's wife and Lepore-Hagan were college friends who lived together in New York City.
By DAVID SKOLNICK
skolnick@vindy.com
YOUNGSTOWN
Actor Steve Buscemi, best
known for playing colorful criminals on television and in movies, had a different role during his visit to Youngstown: political supporter.
Buscemi headlined a Thursday event for Michele Lepore-Hagan, who is running in the Democratic primary in May for the 58th Ohio House District. The seat is currently held by her husband, Robert, who cannot seek re-election this year
because of the state's term-limits law.
The event at Overture at the DeYor Performing Arts Center drew a crowd of about 350 at $50 a ticket.
Michele and Jo Andres, Buscemi's wife, danced together at Ohio University and shared an apartment in New York City, and along with their husbands have been friends for years. Buscemi and his wife also are close friends with Michele's sister, Nanette Lepore, a fashion designer, and her husband, Robert Savage, a painter. Nanette designs many of Andres' dresses, Buscemi said.
"We just all got along and spent a lot of time together," Buscemi said in an exclusive interview with The Vindicator. "We often had conversations geared toward politics."
Buscemi said he's been impressed with Robert Hagan's political career.
"To have somebody be that progressive and liberal and be proud of it and really work toward certain values" is to be admired, he said.
Buscemi said he always considered the Hagans a team.
"It doesn't surprise me that Michele is getting in on the act now, as she's been Bob's partner," he said. "Bob's been the person in the public eye, but Michele's been his partner through and through. Now it's time for her to shine."
When he found out Lepore-Hagan was running for the Ohio House, Buscemi said he volunteered to come to the area to help the effort.
"Any excuse to come to Youngstown," he said. "I like Youngstown. I didn't grow up here, but I know the history. It's gone through some tough times. It was once a real thriving working-class town. It's not that different from how I grew up in Brooklyn and Long Island, [N.Y.]. These are the people I relate to."
When asked if he can draw any inspiration from the organized-crime history of Youngstown for characters he plays — including Nucky Thompson, a powerful and corrupt Atlantic City politician during Prohibition on HBO's "Boardwalk Empire" — Buscemi said with a laugh, "We had that covered in New York as well."
But he acknowledged Youngstown's mob history makes the area "colorful."
He also remembered that Paulie Walnuts, a character on HBO's "The Sopranos" — a show on which Buscemi played Tony Soprano's cousin for three seasons — "did his time in Youngstown" for a gun-possession charge.
Along with a busload of other actors, Buscemi campaigned in Youngstown in 2004 for Democrat John Kerry's unsuccessful presidential campaign, and was an early supporter of Bill de Blasio, elected last year as mayor of New York City.
Buscemi's best-known characters on TV and in film are criminals, including memorable roles in "Reservoir Dogs," "Fargo," and "King of New York."
The other Democrats seeking the 58th District seat are Councilwoman Janet Tarpley, Cynthia L. McWilson and Michael E. O'Hara. Like Lepore-Hagan, they all reside in Youngstown. There isn't a Republican candidate in the race.