Acclaimed musician, composer hosts music workshop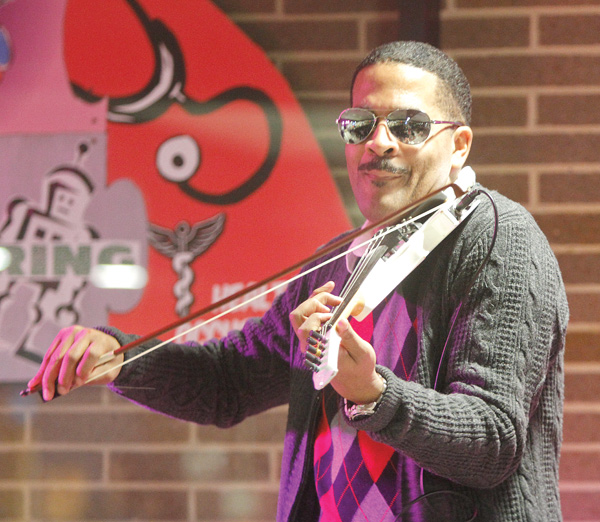 ---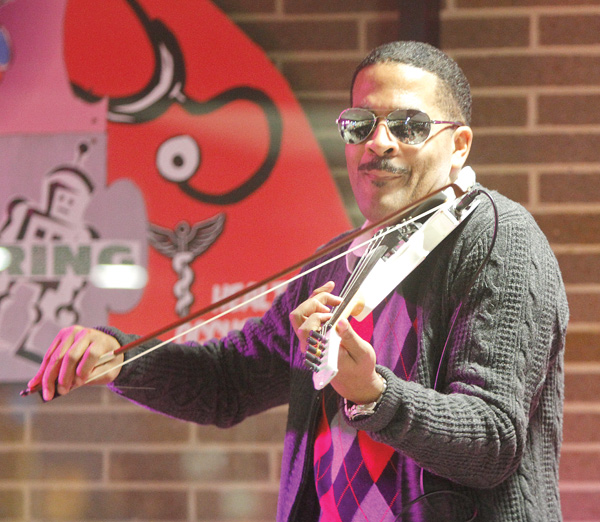 Photo
Jerald Daemyon , internationally acclaimed master violinist, lecturer, composer and recording artist, demonstrates his skills at a music workshop at Choffin Career and Technical Center. Daemyon conducted an interactive seminar for students Wednesday as part of Choffi n's Black History Month observance.
By Sean Barron
YOUNGSTOWN
Not long ago, recording and mixing material for albums in a recording studio required equipment such as a 24-track sound board and heavy reels of 2-inch-wide master tape.
And if you wanted to record several instruments, one on each track, it was often necessary to have the entire group present.
Fast-forward a few decades. All of this and more can be achieved with a single computer.
"We have to do something different. Let's go to No. 8," Jerald Daemyon told a student, referring to a button on a computer that allowed the student to incorporate another sound to a rhythmic pattern.
Daemyon, an internationally acclaimed violinist, recording artist, producer and composer, hosted a workshop Wednesday for students, staff and others at Choffin Career and Technical Center. It was to foster a greater understanding of the technological aspects of creating music while helping to nurture creative development and individuality.
The 90-minute interactive seminar, "Music Meets Technology," also was part of the career center's third annual Black History celebration.
Daemyon began studying the violin in fourth grade in Detroit. His credits include appearances with singers such as Gladys Knight and the Pips and Brian McKnight, along with jazz vocalists Roy Ayers, Joe Williams and Nancy Wilson.
At one point in the session, Daemyon had a student use the computer to fill in a syncopated, sequential musical pattern by changing part of its rhythm. The move had the effect of altering the speed and tempo of the dance beat.
"It's your song; you produce the song the way you want to," he told the student.
In another demonstration, a student, with Daemyon's instructions and encouragement, added bass to a pattern before Daemyon showed the audience on the computer how the sounds of each instrument can be mixed and dubbed.
Afterward, Daemyon made manual alterations via computer to "splice the beat," meaning that such patterns are compressed or expanded, which affects the song's underlying tempo.
Toward the end of his workshop, Daemyon put all the musical parts together after having explained the production aspects. Then he played his small, white electric violin to the popular John Legend tune "Tonight."
The gathering also was to show how music and technology have applications in numerous disciplines, noted Loisjean Haynes-Paige, Choffin's business-technology instructor and workshop organizer.
"This event showed the students exactly how technology is used in music and how computers go across curriculums," she said.
It's also important that students learn about music because of additional long-term benefits, Haynes-Paige continued.
"I want parents to get their kids involved in some type of music education because it helps them across the board in all curriculums," she said.