Higher temps, rain, melting snow pose triple threat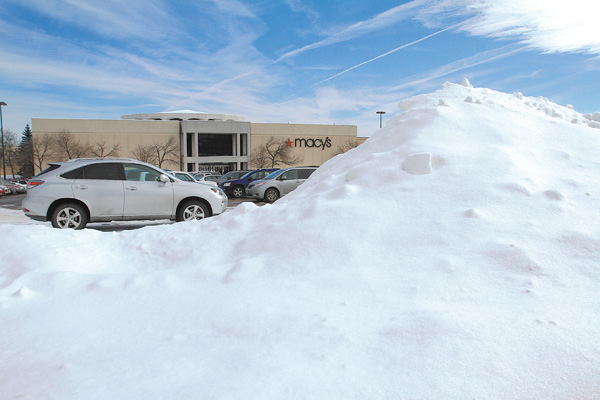 ---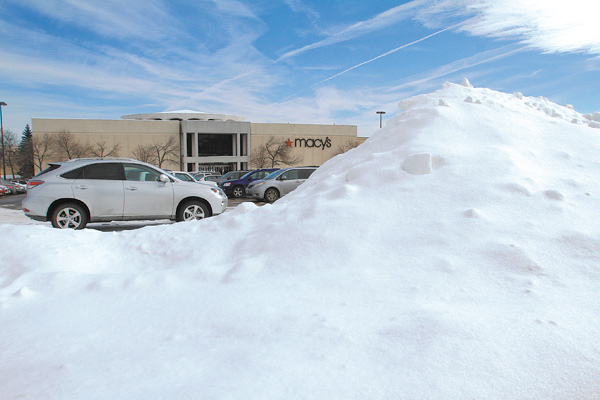 Photo
Snow mounds in the parking lot of Southern Park Mall in Boardman are beginning to melt. Higher temperatures and the threat of rain today and Friday hold potential for flooding in some parts of the Mahoning Valley.
Staff report
YOUNGSTOWN
THE BIG DRIP IS ON. Higher temperatures, rain and melting snow now pose a triple threat for flooding.
There is a 50 percent chance of rain this afternoon, with highs around 50, according to the National Weather Service in Cleveland. Thunderstorms are possible tonight with a 100-percent chance of rain.
Friday will be partly sunny with a 30-percent chance of showers, breezy with highs in the middle 40s.
At the Lemasters home on Meadowbrook Drive in Leavittsburg, where the flooded Mahoning River ravaged the building last July, a new washer and dryer are in the basement. That flood filled the home's basement with 6 feet of water and mud and ruined everything in it the day firefighters evacuated 63 people from 28 homes.
With the possibility that flooding might occur again, Kyle Lemasters said he'll be watching for telltale signs that the basement is in jeopardy. His one plan of action is that he will bring the new washer and dryer upstairs to the first floor if floodwaters start to come in.
Meadowbrook is considered one of the most flood-prone areas in Trumbull County because the river surrounds the neighborhood on three sides. The Lemasters residence is only a couple hundred feet from the river on one side, a couple thousand feet on another side.
"We're the lowlands. We're basically our own little island," he said.
Warren Township Fire Chief Kenneth Schick noted that flood stage is 10 feet, but he doesn't think of it as serious until it reaches 13 feet, because that's when it starts to overflow its banks.
It reached 16.9 feet last July as a result of hard rains that also flooded several downtown Warren buildings — one that housed valuable Trumbull County records dating back more than 200 years.
Chris Tanneyhill, building official and floodplain administrator for Warren, suggests these actions to prepare for the possibility of flooding: purchasing a submersible pump in advance to pump out water that comes in, removing carpeting from the basement, putting furniture on blocks.
Another suggestion is to clear the snow and ice away from the discharge pipe at the street that carries away the water from the basement.
mahoning county
The expected thaw will "increase runoff and put a lot of extra burden on the sewers," said Charles Shasho, deputy director of Youngstown's public-works department. "Our sewers are designed to handle a normal runoff. We're anticipating the worst and hoping for the best. The water's going to come. We can't increase capacity [to handle water runoff] in a day."
Shasho also warns of potential flooding of streams and other bodies of water.
"The Mahoning River will rise, but that could be a few days later," he said. "Everything upstream will flow here. It is a concern."
The Mahoning County Engineer's and Sanitary Engineer's offices say they're prepared to use sewer jet trucks around the clock, if necessary, to unclog any sewers that are contributing to flooding as the snow melts.
But they say the key to avoiding flooding is preventive maintenance performed long before the meltdown.
To reduce road flooding, catch basins are regularly cleaned as long as the weather permits, said Kristin N. Barrett, special projects coordinator in the engineer's office.
The likelihood of sewage backup during the meltdown is reduced because approximately 800 miles of sanitary sewers maintained by the sanitary engineer's office are not connected to any storm sewers, she said.
The sanitary engineer's office has installed manhole inserts in low-lying areas that are designed to keep stormwater and meltwater from entering sanitary sewers through manholes and unnecessarily burdening sewage- treatment plants, Barrett added.
In addition, treatment plants are capable of handling significant infiltration of storm and melt water, so it would be highly unlikely that meltwater would overwhelm the plants and force diversion of sewage into creeks and rivers, she said.
"They can handle significant amounts of increased flow," said Patrick Ginnetti, county engineer, who also supervises the sanitary engineering department.
"The overflow [of sewage into creeks and rivers] is the very last resort, and that's in the event of a superstorm," Ginnetti said. There were no overflows in all the major rains that occurred last year, he said.
The greatest flooding risks are in rural areas and at intersections with low points in the road, Barrett said.
"Urban roadways have storm-sewer structures in place to catch runoff and help prevent flooding," she explained.
As with the Lemasters, the big melt could mean trouble for other basements.
Frank Bauck of Ohio State Waterproofing, which services communities in Northeast Ohio, said there are warning signs homeowners can watch for. "White chalky powder on the wall — you'll see these long before you see water — cracking, peeling paint, mortar looking soft, damp spots on the wall," he said.
Sometimes homeowners will detect a smell in their homes and find mold.
"With the winter we've gone through, this is actually the worst time of year for basements," Bauck said.
The repeated freezing and thawing can cause cracks in a house's foundation.
Bauck urges homeowners to take care of what he calls the three G s to cut down on water problems: gutters, grading and groundwater.
"This time of year, make sure your gutters are functioning as well as they can be" and free of debris, he said, and make sure downspouts are working properly. As far as grading, don't pile snow against the house.
With groundwater, everything is going to melt.
"The ground won't handle it," Bauck said.
in the suburbs
Mahoning County roads that are susceptible to flooding include Middletown Road in Smith Township, Palmyra Road in Canfield and Milton townships, and Mahoning-Trumbull County Line Road near Northeast River Road in Milton Township, Ginnetti said.
The meltdown has not yet resulted in any significant road flooding or burden on sewage-treatment plants, he said.
Freezing by night and thawing by day during the meltdown will contribute to a proliferation of potholes in roads, Ginnetti said.
Campbell Mayor William J. VanSuch directed members of the city's street department to begin cleaning snow from out and around catch basins. If it does rain, VanSuch said, the water "will have some place to go."
He added that as the snow melts, crews also are busy patching potholes, especially on main roads.
"I do live in Campbell. I travel these streets, and I have an idea of where [problems might exist]," VanSuch said. "I sure don't like to get complaints."
Struthers Mayor Terry Stocker said as soon as he noticed large quantities of water on the roads Wednesday, he instructed crews to begin opening up catch basins, many of which were "caked with ice" from recent plowing efforts.
And as for potholes, Stocker said crews were trying their best to patch holes as they formed.
Boardman and Austintown townships' road departments were busy checking catch basins and filling potholes Wednesday. Austintown Township Administrator Mike Dockry said the changing weather causes the potholes.
"[Crews] will be going around just making sure that the catch basins are open," Dockry said.
The crews also check to make sure large drain water ditches are open.
Boardman Road Supervisor Larry Wilson said managing the catch basins and filling potholes is just as important as every other job the department does.
"When we get a chance when the weather is clear we have them fill potholes," Wilson said.