Business and union leaders want Jim Tressel as YSU president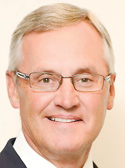 ---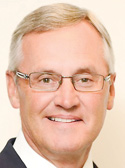 Photo
By Denise Dick
YOUNGSTOWN
Jim Tressel as the next president would score a touchdown for Youngstown State University, a group of supporters says.
U.S. Rep. Tim Ryan of Howland, D-13th, wrote a letter Wednesday to YSU trustees, signed by 31 business and community leaders, endorsing Tressel as president.
"As longtime supporters of Youngstown State University, we are writing to offer our full and unequivocal support behind Jim Tressel to be the next president of Youngstown State University," the letter says. "We hope that the board considers moving expeditiously to make this happen. We all have known Jim personally for many years and strongly believe that he will bring all of the skill and experience needed to lead Youngstown State University forward."
The presidency is up for grabs after Randy Dunn, appointed last July, this week announced his resignation, effective, Aug. 16, to assume the presidency of Southern Illinois University.
Tressel, a former YSU and Ohio State University football coach, who led both teams to national championships in their respective divisions, serves as University of Akron executive vice president of student success.
The letter says Tressel understands the importance of YSU's relationship to Youngstown, Warren and surrounding communities as well as America Makes (additive manufacturing), the Youngstown Business Incubator and the role of Science, Technology, Engineering and Mathematics in the area's future economic initiatives.
"He knows the importance of university collaborations with the private sector and local workforce," the letter says. "And he has the relationships and obvious leadership skills to build both the financial and organizational support for the YSU initiatives that will grow the university and broader economy. Given the current circumstance, we hope you would consider making an offer quickly so that we can move forward and build upon the great progress that has been made in the Mahoning Valley..."
Tressel couldn't be reached, but a spokeswoman at UA said that Tressel "is extremely busy and focused on his role" at that university "where he leads strategic campaigns to attract, recruit and ensure the success of our students." She said it would be inappropriate for she or Tressel "to comment on any outside inquiries at this time."
Ryan said he doesn't usually get involved in such issues, but he got calls from others and he had been thinking about it as well.
"This is really an opportunity for us to turn lemons into lemonade here," he said.
Many changes are happening at YSU, Ryan said.
"This is the opportunity of a lifetime to get someone of Jim Tressel's caliber," the congressman said.
Ryan said the defining attribute of a university president is to be a strong leader and "he's a winner — and you win with people."
Ryan believes Tressel would be able to strengthen enrollment by attracting students from all over the country and to bolster fundraising.
"Imagine the alumni meetings around the country if Jim Tressel shows up," Ryan said. "They'd go from 20 people there to 200 people there. People who have never donated to YSU will now want to donate money because of the skills, and the intelligence and the vision he brings to Youngstown State."
Dr. Sudershan Garg, YSU trustees board chairman, said Tressel's name was suggested as a presidential contender last year, but Tressel didn't apply.
If Tressel does apply, his application would go before the board. "I wouldn't be unhappy about it," Dr. Garg said. "I'll put it that way, the more the merrier."
Bruce Zoldan, president and chief executive officer of B.J. Alan Co., is among Tressel's backers.
"He's a proven winner," Zoldan said. "He's driven to success. He grew up in a university environment. His dad was at Baldwin-Wallace. He spent many years working at YSU and OSU and now he's working at the University of Akron offices. He has a tremendous amount of experience."
Besides being a great football coach, Tressel is a great motivator who immediately would be accepted by the community, Zoldan said.
"He brings the Camelot effect," he said.
Zoldan doesn't believe YSU should go through another search, saying it should hire Tressel outright.
He said a group of people is backing Tressel to be the next president of University of Akron as well.
"In our opinion, it would border on criminal to let the University of Akron take a son of Youngstown as their president," Zoldan said.
He said Tressel is cautious about publicly saying what he wants.
"My gut opinion — he would take it," Zoldan said of the YSU presidency.
Sam Covelli of Covelli Enterprises is member of the Tressel for president camp.
"Jim Tressel is a terrific person and whatever he does, he's going to be terrific at it," he said. "He's a brilliant guy and he loves Youngstown. I've talked to several leaders in the community and everyone felt the same way. We'd love to have him back. He's a legend in the community and a good person." Covelli said Tressel would be a good president who helps with fundraising and who gets the community involved in the university.
Contributor: Vindicator sports writer Joe Scalzo