Published: Wed, February 19, 2014 @ 12:00 a.m.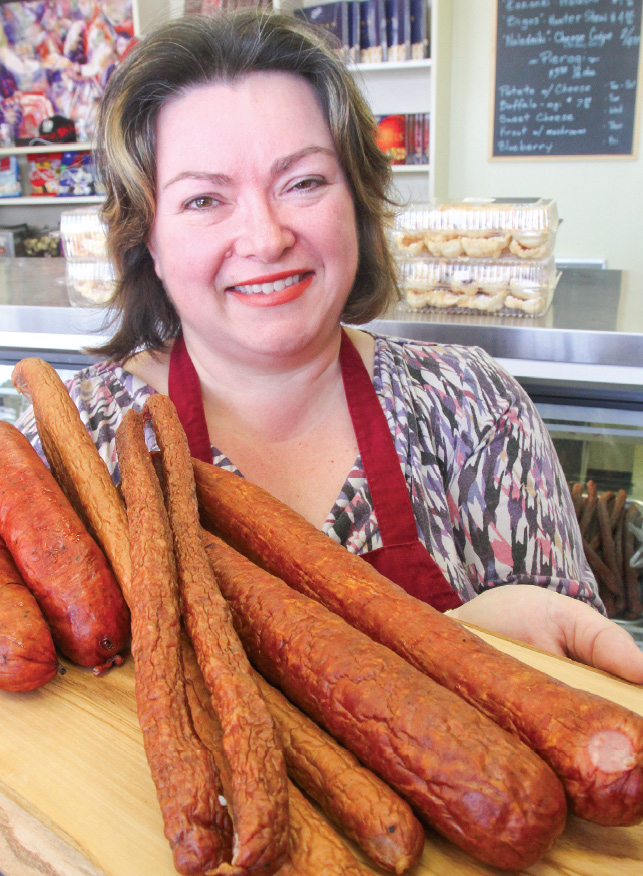 Photo
Marta Mazur, owner of Krakus Polish Deli and Bakery in Boardman, shows a sampling of the deli's popular kielbasa.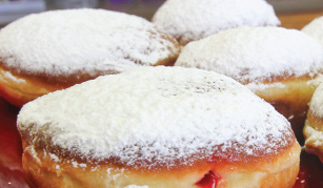 Photo
Jelly-filled donuts from the bakery are known as paczki
If You Go...
What: Krakus Polish Deli & Bakery
Where: 7050 Market Street, No. 108, Boardman, OH 44512
When: Tuesday through Friday 10 a.m. to 6 p.m., Saturday 10 a.m. to 3 p.m., Closed Sunday and Monday
Phone: 330-758-8333
Website:KrakusPolish-Deli.com
Erin Kouvas
As I am writing this article, I am chewing on a huge bite of kielbasa sub with sauerkraut. I absolutely could not wait to get home today and dig into all of my delectables from Krakus Polish Deli and Bakery. Today was truly a day I was happy to be a restaurant writer because it brought me to this little gem of a place at 7050 Market Street in Boardman.
I have seven to-go boxes in front of me. One is stuffed cabbage for $6.50, and it is stuffed with beef, rice and tomato sauce. Two others are pirogi, $3.50 for six, one with sauerkraut and mushroom and the other your classic potato and cheese.
There is the kielbasa sub, $4.50, that I was so rudely chewing on when I first spoke to you here. There is a box with a variety of smoked kielbasa, which they ship in from Chicago and are priced from $5.99 to $7.49.
And there are two selections from the bakery, chrust, $4.25 per dozen, and paczki, pronounced punch key, a Polish doughnut filled with raspberry jelly and topped with powdered sugar, which cost $1 each.
Let me begin with the kielbasa sub. This is a sandwich I would definitely order again. I adore sauerkraut, and this combination that they create with what they call bigos, a hunter's stew of meats, kielbasa, mushrooms and sauerkraut, is so delicious, it's making me forget that I just finished a juice fast and I will now be putting on the few pounds that I lost with all of this food. Oh well. Such is life.
Moving on to the pirogi. Who doesn't love them? I have the cheese and potato and the mushroom and kraut. Both amazing. I will be making a trip back to this place for more than just the pirogi, but the pirogi alone are worth the trip.
Then we have the stuffed cabbage, which is so delicate and yet it holds up to the fork, not crumbling away when you dig into it. Perfectly blended within are the beef, rice and tomato sauce.
I am not a huge fan of smoked sausages, but if you are, you should get here and fast. They ship them in from Chicago, and Marta Mazur, the owner, is pretty sure that you can't find any better anywhere close to here.
Last but not least are the treats from the bakery. I must admit that I popped one of those chrusts into my mouth on the drive home. They were staring at me; I had no choice.
Delicious and delicate, probably very lovely with a cup of coffee or tea in the morning. I will find out tomorrow.
The paczki, sadly, has been devoured and there is no evidence of its existence besides the powdered sugar that is left on the bottom of the to-go container. These doughnuts are so good! If I lived close by and was a doughnut eater, this would be my new coffee and doughnut routine. I live 25 minutes away, and I know that I will still make a trip out here and load up on multiple items and hope that most of it survives the drive.
Kudos to Marta, who named the small shop after the Polish Cultural Center that used to be in Boardman, where she met her husband and married him and they both moved here from the East Coast in 2009. Krakus actually means freedom fighter from the town of Krakus, an area in southwestern Poland. Marta moved to the States from Poland in 1981.
And I'm sure that the regulars at Krakus are happy about that. At this shop, you can find these delicious premade items but also much more! Cheese, such as farmers cheese, the traditional cheese that you find in Polish pirogi.
As they didn't have cheddar in Poland, this farmers cheese that Marta used to make herself because she couldn't initially find it anywhere is what they use in the cheese and potato pirogi as well as sometimes a "sweet cheese" made of a mix of farmers and ricotta.
I can't keep writing without mentioning my new friend, Stephanie Brys. She was a beautiful little lady that I met at the counter who had eyes like my grandmother. She spoke very broken English and yet we managed to strike up a conversation. I fell in love with her immediately.
There's something about ethnic grandmothers. They always succeed in feeding you. And Stephanie, who lives in Boardman and has been in America since 1951, gave me a piece of cherry vodka-filled chocolate. Because, why wouldn't she? So lovely.
Marta let me know that Stephanie is a regular and a very sweet lady. She was there buying food for herself and her granddaughter, and as she was able to get through to me that she is so appreciative to have this store with food from her homeland especially because she doesn't cook anymore. In her words, "I like it. I'm glad they have this store here." Me too, Stephanie.
About Food:30
We are offering a glimpse into local restaurants and eateries by reviewing their food offerings. To recommend a location, send an email to society@vindycom.